Horror News Roundup: Respect for the Grindhouse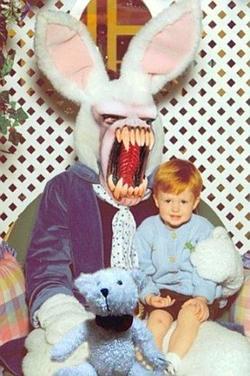 Grindhouse reviews are coming in and they're looking real good. Less so for The Reaping.
Turns out a remake of It's Alive is already in production, just in time for John P. Ryan, the recently deceased star of the original, to spin in his grave.
Speaking of remakes, it's looking like the reshoots on Invasion, the Nicole Kidman/Daniel Craig remake of Invasion of the Body Snatchers, are becoming more like a remake itself. Or perhaps just a lifeless copy of the original.
Is Phantasm 5 coming closer to reality? Director Don Coscarelli says… maybe!
Neil Jordan, director of Interview with the Vampire, will be adapting Heart-Shaped Box, the new bestseller written by Stephen King's son, Joe Hill. I was trying to think of some really clever way to work in "Throw down your umbilical noose so I can climb right back", but it just wouldn't work. Damn, that Kurt Cobain was a clever writer!
And speaking of books to screen, the first-ever Edward Gorey book to become a movie will be The Doubtful Guest, courtesy of Walden media and Jim Henson Pictures. Please, please, please don't let them screw this one up! Pretty please!
Have a Happy Easter everyone!
Read More