Horror Comedies With Bite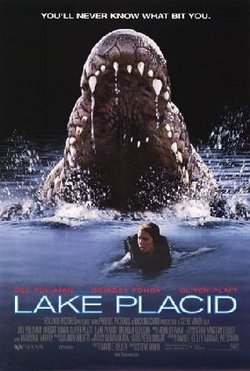 Lake Placid, which has been described as a combination of horror, comedy and suspense thriller, airs on AMC's Fear Friday this week, with a repeat broadcast Saturday. It reminds me of a similar film that has become a cult classic over the last few years, Lewis Teague's 1980 fun fearfest, Alligator.
Like Lake Placid, it's as much a comedy as it is horror movie, and it was an unexpected success with the critics. What could have been a rather silly monster flick had, well, bite due to the smart, witty script by indie film icon John Sayles, who uses clever one-liners and movie in-jokes along with playful manipulation of horror movie conventions. It has a solid cast with Robert Forster, Robin Riker, and the one and only Henry Silva as a great white hunter out to bag the big gator, following smart direction from Teague, who later went on to helm Cujo. A cable classic of the early 80s, let's hope we see this one turn up on disc some day.
In the meantime, check out Lake Placid on AMC to satisfy your giant reptile cravings or check out this video of Hot Fuzz star Nick Frost teaching you how to survive an alligator attack.
Read More