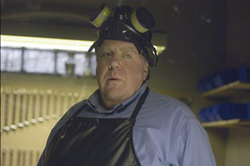 That Masters of Horror series is super-fertile. It's a way for us to see some of the directors who can't get their big-budget projects greenlit put some stuff together for us. Can't say enough about it. We're big fans, big enough to have constructed that weirdo corkscrewy sentence above!
John Landis' (who, in interviews, seems amused to be considered a master of horror after having given the world Animal House) has an episode called Family which stars that cuddly George Wendt.
Though most remember him as a henpecked and sedentary beer-bather whose name everybody knows (more corkscrewy sentences, it's a windy wind-y day), he has actually been in quite a few scary flicks, an episode of Tales From the Crypt and the Twilight Zone.
Best of all, ask anyone!, he was in the criminally under-rated House. Cannot say enough about this movie and its (superior?) sequel. Tears streaming down my face. Shoulders shaking. Falling softly to the ground. Curling up.
Love. It. So. Much.
Thank you Masters of Horror for reminding us of House. If the purpose of art is make you feel something, then baby, you have fulfilled your purpose.
Read More