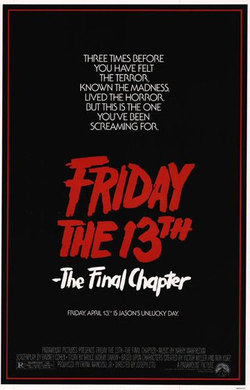 As Todd has mentioned, today is Friday the 13th, traditionally the unluckiest day of the year, but for Paramount Pictures it used to be a rather lucky day indeed. Back in 1980, they released the original Friday the 13th in early May and it wasn't until the release of Part III that a Friday the 13th film actually opened on that date (August 13, 1982). The result was a box office windfall and its 1984 follow-up Friday the 13th – The Final Chapter also opened on that date – April 13, 1984, exactly 23 years ago today.
The Final Chapter was the first Friday the 13th I ever saw in a theater and it couldn't have been more memorable. I did so with a packed house at a local theater with my dad, who was never a horror fan but went because, well, he promised he'd take me to the movies. He was probably the oldest person there and if it wasn't for the enthusiasm of that crowd I doubt he would have had a good time at all. Thankfully, it was the perfect audience, there to be scared and have a good time and the movie delivered the expected gore, nudity and scares in ample amounts to earn their approval; everyone had fun. The fact that it could work for a 50 year-old fireman as well as about 500 teenagers is a testament to a job well done.
Say what you will about the Friday the 13th series (and our pal Devin Farci at CHUD has been so doing all week long), but when they worked, they worked pretty well. Thanks to the memory of this night, The Final Chapter is probably still my favorite. I dragged my dad to a lot of movies in my time, some of them all-time classics, but that night is still the happiest time we ever had at the movies together.
Read More