Fear Friday: Psycho II and III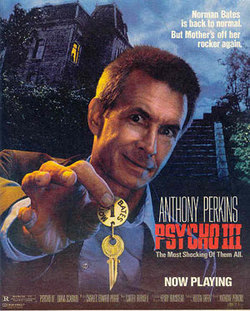 Anthony Perkins, appearing on the David Letterman show to promote Psycho III, stopped to correct Letterman when the host referred to the Psycho series as horror. "They're not really horror movies," Perkins said. "They're tragedies." Letterman, replied in usual form, "Sure, the guy's nuts and he's killing everybody; it's tragic".
Perkins had a point. Psycho II and III, released 23 and 26 years after the original Hitchcock classic, are surprisingly respectful of the original film and good movies to boot. Richard Franklin's Psycho II delivers the scares audiences want, but takes an usual position for a horror flick — the film is completely on the side of the killer, Norman Bates, played again terrifically by Anthony Perkins.
You sense Norman really wants to get well, and I was rooting for him to make it. Of course — spoiler alert — that doesn't happen, but the fun is in seeing how it doesn't, and there's a humdinger of an ending.
Psycho III (which Perkins himself directed) continues in this vein, allowing Norman one last opportunity to capture normal happiness. Credit Perkins the director for casting the film so well, with Diana Scarwid as a former nun who stops by the Bates Motel and Jeff Fahey as wannabe rock star Duke ("Watch the guitar"), who tries to take advantage of Norman's good will. Psycho II also contains some wicked black humor along with its solid scares.
Both Psycho II and III air on Fear Friday this week.
Read More