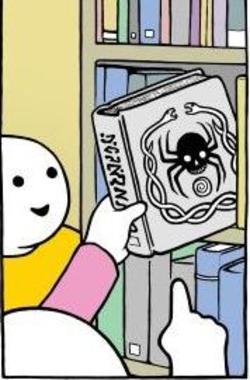 What could be within the pages of that dread book: Find Out.
Super-funny comic from The Perry Bible Fellowship that reminds me of several, awesome undeservedly unseen films.
It's like the painting at the end of The Beyond. Wait, are these "spoiler alerts" I keep hearing about supposed to come before or after the information?
Anyway, it's super awesome. I love popular culture that gets its power from your knowledge of other popular culture. It just makes you feel…I was going say full, but what I really mean is satisfied. Ahhh, what a satisfying amusement.
This crazy/awesome shirt design is almost its equal. Spoiler alert! Not really film related. Don't tell the Super! Seriously, spend some time absorbing its intricacies. Todd did. Spoiler alert! I'm Todd!
Read More