DVD M.I.A. – The Stepfather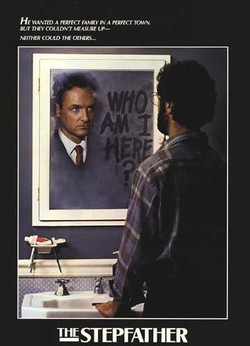 Some of you may think in this day and age that pretty much every great horror film that could be available on DVD is already out there. Not so. There are plenty of primo top-quality genre flicks that have yet to see there day on disc and I'd like to start with the one that I consider to be the holy grail of all the missing classics, Joseph Ruben's The Stepfather.
Loosely based on the story of John List, a NJ man who murdered his family and then disappeared, The Stepfather came with a lot of talent behind it; producer Brian Garfield was the author of Death Wish, director Ruben was fresh off of 1984's Dreamscape and, more importantly, genius crime author Donald Westlake wrote the script. The film took the List story and spun it off into a great "What if?" scenario: What if a man murdered his family, remarried into a new one and then history repeated itself? Casting was key to everything and they got really lucky with character actor Terry O'Quinn (now one of the starts of Lost), who knocked it out of the park. This performance is one of the best in horror film history, and O'Quinn was even nominated for an Independent Spirit Award for his work.
I have no doubt The Stepfather would make a great DVD, since the story behind it gets even more complex. In 1990, List was discovered to be living in Virginia, and just like in the film, had remarried and become a pillar of his community. In a very ironic twist, his story was eventually turned into a TV movie starring Robert Blake! Because of this, The Stepfather deserves to be seen and appreciated like the classic it is.
So are there any classic horror films not on DVD that you'd like to see? Let us know!
Read More