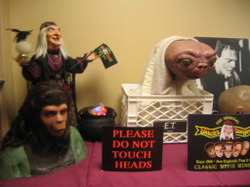 Went to the Chiller Convention this month and brought the camera. This guy
might have had a better time, however. Looks like he got to slink up
next to the original Buffy the Vampire Slayer. It was a cool mix of
heads in boxes (don't touch!), monster paintings for sale and superfans.
David Arquette was also there and dressed in a photoproof embroidered skeleton dinner jacket! He was promoting The Tripper, you know that movie where the guy dresses up like Ronald Reagan and goes on a killing spree. Talk about your trickle down economics. Haw! I better be the first to make that joke or it's my head in the box. Move over, ET.
Can't wait for the next one in October. It should be hot and cold running scream queens.
Here's a poster for The Tripper. If only I had one of the director's sportcoat!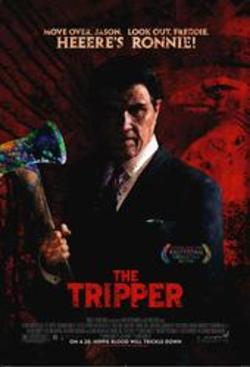 Cons are crazy places, and this one was pretty wild. There were lots of old TV horror hosts and half the cast of Grindhouse.
In fact, I got a signed glossy of Michael Biehn, he plays the rent-raising sherrif in the Planet Terror portion, which says "Todd, come with me if you want to live!" then his signature. Crystal skull cool!
It's going on the wall next to my framed collection of Trek Babes. Don't tell the guys in the Sci-Fi Dept. They'll get all over my case!
So, cons are the place to be, and this one has another session in October.
I'll be there, and I'll get some snappier snaps.
My dream festival in the meantime is this HP Lovecraft Filmfest. Anyone have a couch in Austin for this Raven to perch on?
See you there.
Read More