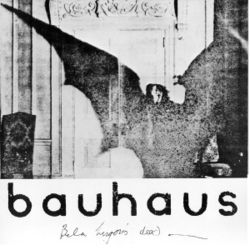 What did all the kids do this weekend instead of buying tickets to Grindhouse? They weren't playing outside, it's supercold all over the country.
Maybe they were watching this shocking video of unexpected people singing unexpected vocals with the unexpected blessings of the original vocalist: Surprise!
Or perhaps they watched the original as it appeared in The Hunger: No Ice (but they may have been frustrated by the poor sound quality – buy the original)
Considered by many to be the first "goth" track, it's bass line is criminally underused by baseball players as their "I'm- coming-up-to-bat theme song."
I would absolutely buy the jersey of any player who used it.
Read More