Before Blair Witch, Flesh for Fantasy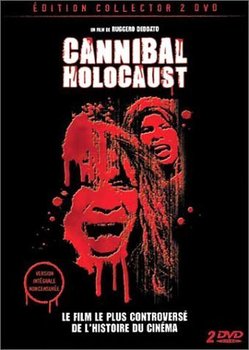 When it comes to fake documentaries like The Blair Witch Project, nobody beats the grandpappy of them all, Cannibal Holocaust.
Filmed on location in the hunger pits of the Amazon, it purported to be a documentary about a documentary crew. Layers upon layers. Course after course!
If you haven't seen it, it might be because it was seized by the authorities who thought it was real and some kind of super-advanced snuff film. Wild! Shocking! Get more information than you can stand here.
Warning. If ye be squeamish, if ye be faint of heart, if ye be operating heavy equipment, do not watch the scene where they eat the turtle!
We watched it in the office on a beat up old VHS in dumpster-vision and though we're a bunch of grown horror fans and cheered the human meals, we all clung to each other, weeping tears of revulsion during the turtle scene. Don't watch it alone.
It's nice to know that you can still be reached. It's nice to know something can still effect you. It's nice to know the Amazon is super far away.
Read More