Yee-Haw! It's The Big Ol' SXSW Wrap Up!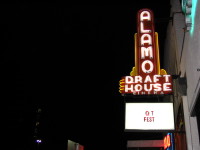 First off, it's a been a pretty slow week for horror news, so we'll get back to that next week. However, let's take a moment to peek into the future of horror and see what were the some of the hits (and misses) of this year's SXSW Film Festival in beautiful Austin, TX. As we posted a few weeks ago, it was a hot time down in Austin for one of the best film fests around and our brave correspondent, Mr. Taylor, has recovered from all those late nights at Emo's to give us a rundown of some of this year's SXSW genre selections. Take it away, Mr. Taylor…
Sisters – An overwrought and unnecessary version of the DePalma thriller, Douglas Buck's bloodier update is beautifully shot and essentially flat. If they were aiming for a detached dreaminess, they nailed "detached". At its best, the film manages low hum of desperation and psychosis.
Borderland – Mexico-bound college kids face off against a tattooed Satanic cult in a youthicidal splatterthon tastelessly based on an actual police case. Borderland is as grim and self-assured as the rest of Hollywood's post-Saw contemporaries, and equally lacking in innovation.
Mulberry Street – Though not perfect, Jim Mickle's efficient undead wererat movies gains points for its earnest effort at revitalizing the saturated zombie genre, as well as avoiding the intentional camp that so often characterizes modern low-budget horror. Some scenes are mired with forced emotion, but it's never a long wait before some welcome misanthropic mayhem kicks in.
Undead or Alive: A Zombedy – Tragically misconceived and hastily executed "madcap" zombie western starring SNL's Chris Kattan. Despite the presence of the cast and creators, the audience dwindled throughout the screening. Almost as funny as a root canal, but less blood.
Trigger Man – The most hair-raisingly drawn-out 80 minutes in the history of the horror film. Ti West uses the ceaselessly shaky camcorder to trump long-haul cinematic heroes like Bela Tarr and Fassbinder in a self-indulgent indie-rock trudge through the hunter vs. the hunted scenario. I'm all for experimentation, but the end result shouldn't hurt.
Big thanks to Mr. T for that report!
Read More