This Week's Horror News Round Up!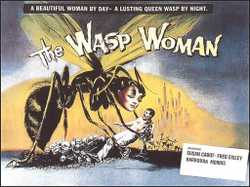 It's looking like the fancy-schmancy Cannes Film Festival will get a longer cut of "Death Proof", Quentin Tarantino's half of Grindhouse. But will they make the famed Cannes red carpet sticky for this one?
300 and Dawn of the Dead remake director Zack Snyder is prepping a new zombie epic called Army of the Dead. OK, if he's basically going to spend his entiire career ripping off George Romero, the least the guy can do is pay him some royalties.
In what sounds like great casting news, Rose McGowan will play Susan Cabot, the star of Roger Corman's The Wasp Woman, who met a tragic end. Hope it's good.
In even better casting, Jet Li will play the title role in The Mummy 3! He's no Arnold Vosloo, but I guess he'll do.
Get ready for another government crackdown on horror. Because all the previous ones were so effective.
Along the same lines, After Dark Films is in some serious trouble over their ad campaign for the upcoming Captivity. Why is it that the horror movies that cause the most trouble for the genre are the crappy ones?
Like trailers? Sure you do! Check out these new previews for 28 Weeks Later, Hostel: Part II, and Day Watch and thank us later.
After many false starts, turns out the remake of Dario Argento's Suspiria will begin shooting this summer under the direction of Brian Robbins, with Justin Timberlake starring and providing new songs for the soundtrack. Have a great weekend, everyone, and don't forget to take the giant insect poll!
Read More