This Week's DVDs: Re-Animator, Pro-Life
Oh, decisions, decisions. Do I make the week's top pick the enduring classic gorefest or do I make it the episode of Masters of Horror with a supporting character named after me? Oh, screw it, I'm selecting both!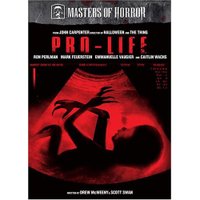 If you've never seen Stuart Gordon's adaptation of H.P. Lovecraft's Re-Animator, then you're not really a horror fan and I'm not speaking to you. A surprise hit in 1985, it went on to become both a critical and audience favorite and is not only one of the best horror films of the 80s, but still the best big-screen adaptation of Lovecraft to date. Previously issued on DVD in 1997 and 2002, the new 2007 DVD for Re-Animator comes with much of the material from those previous editions (audio commentaries and deleted scenes) with a new 70-minute "Making Of" documentary from director Perry Martin and improved picture and sound. Not only that, but you also get a complimentary "syringe" pen filled with re-animation fluid! This title is a must-have for every horror fan's DVD collection, so if you don't have it, now's the perfect time to pick it up.
While Pro-Life, John Carpenter's contribution to the second season of Masters of Horror, may not be a classic in the Re-Animator tradition, it was written by my friend Drew McWeeny (along with partner Scott Swann), who chose to honor me by naming one of the supporting characters "Kiernan", and that's good enough for me. I am portrayed by the fine Biski Gugushe and let me tell you, not only was he able to capture my essence perfectly but the resemblance between the two of us is downright scary in its own right. I suppose I should also mention that Hellboy himself, Ron Perlman, also stars in the episode.
Other notable releases this week include the documentary Going To Pieces: The Rise And Fall Of The Slasher Film (which contains new interviews with Carpenter and Wes Craven) and they're back from the grave and ready to party once again in Return Of The Living Dead: Rave To The Grave.
Next Week – Seven new titles from the After Dark Horrorfest!
Read More