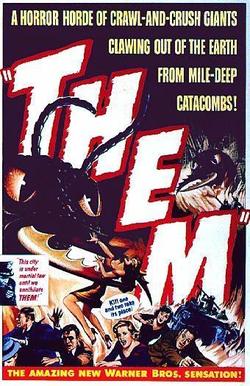 My father tells the story of growing up in Brooklyn and tossing baseball cards off of the roof, and stealing apples from the fruit stand and getting in scraps with the Little Rascals, but also of afternoons at the movies.
Grandma would put thirty cents in a tube sock and throw it out the apartment window down to where pop was waiting, and if it didn't get stuck on the fire escape, he'd grab that sock of coins and run down to the theater.
One afternoon he bought his ticket, sat down, unwrapped a roast beef sandwich and waited for the newsreel to end.
When it did, Them started, and seconds later he fled from the theater. Didn't make it past the credits.
Was it the thought that giant ants were imminent? No, it was the music. He thinks it was a theremin what did him in, and he makes a scary noise with his voice to approximate it.
This was always a funny story in our family. It was cute to think about that brawling, street scrapper, the Terror of the Five Boroughs
throwing his sock and sandwich in the air when the music started, and sometimes still we'll try and spook the old man with a "wheeee-ooooooo" noise. Good times.
I just found, however, this super article on the music from Them. Turns out it wasn't a theremin at all, but piano and flute.
He's always like, "You can't blame a guy for flipping out when he hears a theremin for the first time. It aint natural."
It was a piano, pop. Can't wait to tell the gang.
Read More