Support Your Local Grindhouse!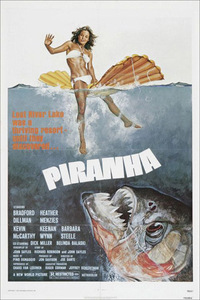 While nothing in this world would make us happier than if you stayed home all day watching AMC, we also understand that basic human need to get out of the house, breathe a little fresh air, and then go see a movie in the theater. Well, you fans of classic horror have got an embarrassment of riches if you want to venture into the big, bad scary world and see some big screen terrors all over this great land of ours in the next few days. Here's what's in store:
In anticipation of the release of Grindhouse, Quentin Tarantino himself has teamed up with L.A.'s New Beverly Cinema to organize a nearly two month festival of classic grindhouse films from QT's own personal film print collection. The schedule is a bit light on horror, but tonight's double feature of Armondo Crispino's Autopsy and Umberto Lenzi's Eyeball will no doubt please all you Eurohorror fans out there. Tarantino is introducing some of the screenings himself, and those introductions are often worth the price of admission alone.
East Coast genre fans can find their thrills this weekend with a special screening of Street Trash hosted by the film's writer/producer (and Monsterfest pal) Roy Frumkes courtesy of Philadelphia's purveyors of fine filth, Exhumed Films. This year marks their 10th anniversary bringing classic horror to the big screen, so expect even more killer screening to come. Midwesterners can also find themselves in trash movie heaven on Wednesday nights at Kansas City, MO's Screenland Theater for the Screenland Freakshow, hosting such fine films as Linda Blair in Savage Streets and Lamberto Bava's Demons in the next few weeks.
But the cream of the crop, as always, comes courtesy of Austin's famed Alamo Drafthouse Cinema, which hosts free weekly midnight screenings on Weird Wednesdays (Jose Larez's Scream and Die is on tonight) and Terror Thursdays (Don Dolher's The Alien Factor screens tomorrow). Saving the best for last, however, is this weekend's outdoor screening of Pirhana at the film's original location with none other than director Joe Dante in person! How cool is that?!?
No matter which one of these show you go to, this is a great time for classic horror on the big screen.
Read More