Science Crystal Double Feature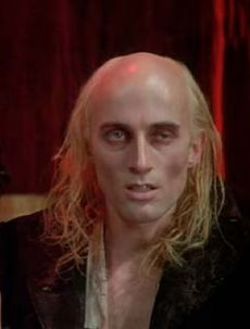 There is little doubt in my fevered mind that you are aware of the Rocky Horror Picture Show, and there is even less doubt you would sing along with any of the tunes if prompted by, say, an old girlfriend who, perhaps had been drinking, say, a fruit-flavored, oh, let's say schnapps, and maybe just started dialing and singing, singing and dialing and making her way back into the hearts lives and ears of all she knows well enough to have entered into her, maybe pink jacketed cell phone.
You may have been a close observer and seen what is common knowledge to most that the name in the credits for the creator of the movie is the same as the actor playing Riff Raff, the incomparable Richard O'Brien.
What you may not know, if you're not, say for example, a British citizen from the early 90's is that he was the super popular host of a gameshow called The Crystal Maze.
It's got some kind of wild fan base, and it's virtually unknown over here. So, the massively talented singer/actor/songwriter/cult-builder added Game Show Host to his mantle of credits, and we (and by "we", I mean us) were totally unaware.
The Brits are so obsessed with it and enamored of it, they even point cameras at their "tellies" and take pictures of the credits! The proof lies beneath!
Read More