Uncategorized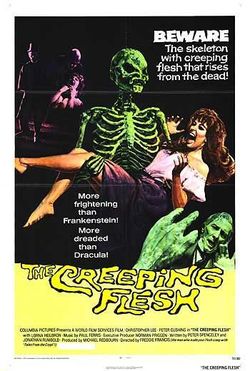 It's always hard to measure the worth of an individual artist who's greatest achievements come from their collaborations with other artists who's infamy so far outweighs their own. And so it was that on Saturday, March 17th, BSC lighting cameraman Freddie Francis passed away at the ripe old age of 89.
Francis was a great cinematographer who worked with David Lynch on The Elephant Man and Dune, Jack Clayton's psychological horror film The Innocents and Martin Scorsese's Cape Fear remake.
He was also a director of such British horror classics as Dr. Terror's House of Horrors, The Creeping Flesh and The Doctor and The Devils. And a few non-classics as well, if the truth be told, like the infamous Joan Crawford vehicle Trog and Son of Dracula with Ringo Starr…!
Looking at these two lists, it's easy to see in which capacity he will probably be most remembered for by the general movie-going public when the inevitable obituaries and eventual Academy Awards remembrance reel is put together.
But as this is a horror film blog, let it be noted that there are some of us here who genuinely love movies like The Creeping Flesh, Dr. Terror's House of Horrors and The Doctor and the Devils as much as any number of acknowledged classic titles.
His passing away is a reminder that one less personage from the bygone golden age of horror is with us anymore.
Rest in Peace, Freddie Francis.
Read More