Poll: Best Giant Movie Insect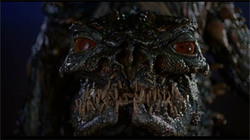 This week's Fear Friday on AMC brings us a quartet of creepy goodies, starting with Misery at 8pm EST and wrapping up with The Fly II at 2:15am EST. The Fly II is a movie that had the unenviable task of following up a true classic, David Cronenberg's 1986 remake of The Fly, easily one of the best films of the 80s.
Taken on its own The Fly II delivers the creepy crawly goods when Eric Stoltz (as the half human/half fly son of Jeff Goldblum and Geena Davis) stops being a brooding bore and turns into a giant man/fly intent destroying those who've wronged him. It's a pretty boss creature (courtesy of director/FX wiz Chris Walas) and it got me to thinking about all of the great giant insects in movie history. Although they are unquestionably an important part of our planet, most insects are nonetheless as scary as any movie monster you can come up with because they can be deadly to the touch and look just downright freaky sometimes.
So with this in mind, grab some insect repellent and click on the link below and cast your vote for the top ten giant insects in movie history in this exclusive AMC Monsterfest poll!
Read More