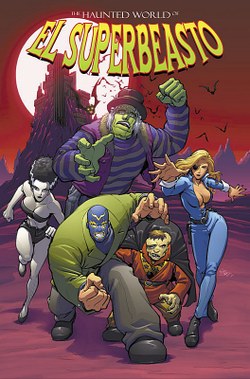 Can you be unaware of the pending, looming release of Grindhouse next week? Impossible. It's all anyone is talking about, and by "anyone" of course, I mean every cool in the pool. But, spoiler alerts be damned you may not know that one of the fake trailers in between the two movies is for a mythical gem entitled: Werewolf Women of the SS.
Pure and undistilled genius pouring straight from the crystal skull goblet of Rob Zombie.
He's superbusy, of course, cranking out the rema*e of Halloween which, as reported earlier, looks pretty supercreepy.
But just under the radar is his animated series: The Haunted World of El Superbeasto.
A Mexican Wrestler who fights zombies and monsters? Um, yes please. How crystal skull cool is that? Your answer: Very.
Mexican wrestlers are fortunate portals, or as they say in Spanish, luchadores.
Fortunate portal=Lucky Door=Luchador. Best joke ever. Winner!
So Zombie wrote the script, and the whole thing will be directed by the voice of Plankton on Spongebob Squarepants, a character the name of which will ne'er again be mentioned in this blog (unless someone sends us an original sketch of a murder scene in which Spongebob is being used to soak up the corpsejuice).
One of you wags will doubtless ask if the "SS" in Werewolves of the SS is Spongebob Squarepants. Spoilers be damned: It does!
So, El Superbeasto was created for an EC-type comic book called Rob Zombies: Spookshow Spectacular, three issues of which were never published. If you were following along and been waiting for those issues, I bet there's a sweet chance much of that material will be in the movie.
Plenty to see. Mr. Zombie has made fortunate portals of us all!
Read More