In Theaters: The Hills Have Eyes 2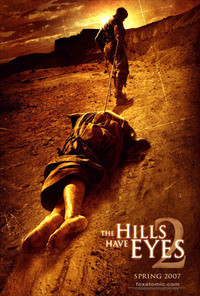 Allow me to admit that I did not see last year's remake of The Hills Have Eyes. Like most of you, I'm burned out on all the horror remakes coming down the pike these days (in truth, I haven't seen any of them) and while I like Wes Craven (unlike some people I know), the original film is not one of my favorites of his. Despite some good word from people I trust, my eyes have yet to rest on The Hills Have Eyes '06, but I have to admit that I tempted to see The Hills Have Eyes 2 for several reasons. First is that it was co-written by none other than Wes Craven himself, a rare feat that the director of the original would script the sequel to a remake of his film (his son Jonathan shares scripting duties). Second is that the new film was directed by Martin Weisz, whose film Grimm Love is getting heaps of praise from all over the festival circuit and that I'm very anxious to see. And the third reason is that amazing teaser trailer. I know that cool trailers don't really translate into good movies, but if the wicked sense of humor on display here can be found in the film itself, we might have a winner on our hands. Fingers crossed.
And by the way, the new film is a sequel to the 2006 remake and not a remake of Craven's The Hills Have Eyes Part II from 1985, the only known film in history to include a flashback from a German Shepard. I know, I know, I'm disappointed, too.
Read More