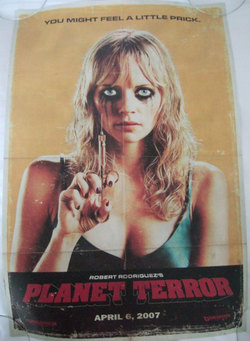 So, they've been keeping it way on the downlow, but your underground crew of snoops has gotten a leak of the press release announcing an appearance by Quentin Tarantino in New York this Saturday. Maybe they'll be talking about it tomorrow, but we're talking about it now. Sweet butter!
We're on, like, secret lists and stuff.
March 27, 2007) New York, NY – Jim Hanley's Universe, a New York City based comic store, is proud to announce that they will be hosting an autograph signing with legendary film director and Academy Award winner, Quentin Tarantino, on
SATURDAY, MARCH 31 from 12:00 to 1:00 PM.
Quentin Tarantino took Hollywood by storm in 1992 with the cult hit Reservoir Dogs. His combination of clever dialogue and brutal violence hit a new peak in 1994 with Pulp Fiction, which won an Oscar for Best Original Screenplay and
revived the career of John Travolta. Tarantino also began to dabble in acting, appearing with Antonio Banderas in Desperado (1995), and with George Clooney in From Dusk Til Dawn (1996). An overnight success by Hollywood standards, Tarantino is considered a genius by some and a snotty imitator by others, adding
to his mystique as a moviemaker. His new film, Grindhouse, is actually two movies in one; one of them is directed by Tarantino, and the other is directed by long time friend and collaborator,
Robert Rodriguez (Sin City). Grindhouse will be released on April 6, 2007.
So, there it is. Hot blog scoop. We'll be there with our digital camera of death!
Read More