Q&A
TURN: Washington's Spies Q&A – Ksenia Solo (Peggy Arnold)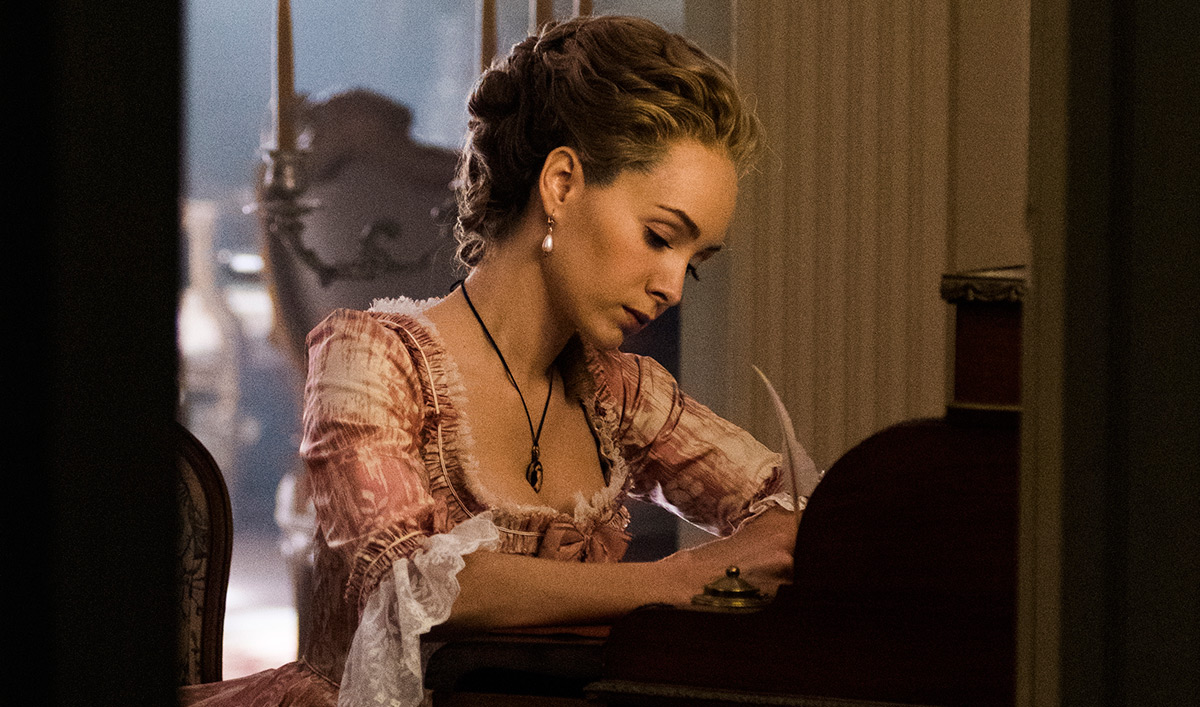 Ksenia Solo, who plays Peggy Arnold in TURN: Washington's Spies, talks about the difficulties of acting with a pregnancy belly, the one thing she kept from the set, and why it was important for Peggy to be apart of the kidnapping plan.
Q: Not only do you have to wear the most intricate dresses, but now you have to look pregnant! Do you need to wear a pregnancy belly? What is it like filming with that?
A: Yes, I have to wear a pregnancy belly and it's quite the contraption! Our costume designer Lahly Poore and her team, as well as Katie Middleton of special FX and Ashley Fetterman, head of the makeup department, did an incredible job. It was tough because the belly had to 'keep growing' throughout the pregnancy.  It was a fascinating experience because the artificial belly really helped me adapt to Peggy's new physical condition. It's amazing how your body can react to something as superficial as a foam strap-on belly. Besides the fact that I couldn't sit on a chair properly, I really enjoyed the challenge.
Q: Do you think Peggy is excited about her pregnancy/child-rearing, or sort of dreading it?
A: Peggy has very strong maternal instincts but is quite worried about the kind of life her child will be brought into.
Q: What did you think when you read in the script that Peggy actually wants to help kidnap Arnold?
A: I understood exactly where Peggy was coming from and admired her tenacity and bravery. I was excited that she got to be apart of the action.
Q: Is part of her feeling betrayed that Cicero would plot against her "family," or is she more excited about the idea?
A: She does feel a sense of betrayal because she did everything she could to welcome Abigail and Cicero back into her household, against Arnold's wishes. Ultimately, she just wants in on the plot.
Q: Peggy's got a few great scenes and some awesome one-liners/come-backs this season. What have been some of your favorite scenes to shoot?
A: One of my favorites was the big fight with Arnold. It was quite the emotional ride. I enjoyed being able to explode, as Peggy always has restrain herself from showing her true feelings.
Q: Were you able to keep anything from the set?
A: My corset. That corset went through a lot these past three years. I will always remember the first time I was measured for it at the legendary Eric Winterling costume house in New York. I flew there after a night shoot on a show I was filming at the time, Lost Girl, and I was deliriously tired but so very excited. I had never worn a period costume before.
Q: Is there anything you're going to miss the most about being a part of the show?
A: The cast and crew. I feel honored to have been apart of such a talented, kind and artistic group of individuals.
Click here to read a Q&A with Meegan Warner, who plays Mary Woodhull.
Watch the latest episodes now on amc.com and AMC apps for mobile, Fire TV, Xbox One, Apple TV, Roku and Chromecast.
TURN: Washington's Spies airs Saturdays at 9/8c.
To stay up-to-date with all the latest TURN: Washington's Spies news, sign up for the TURN: Washington's Spies Insiders Club.
Read More