Q&A
TURN: Washington's Spies Q&A – Meegan Warner (Mary Woodhull)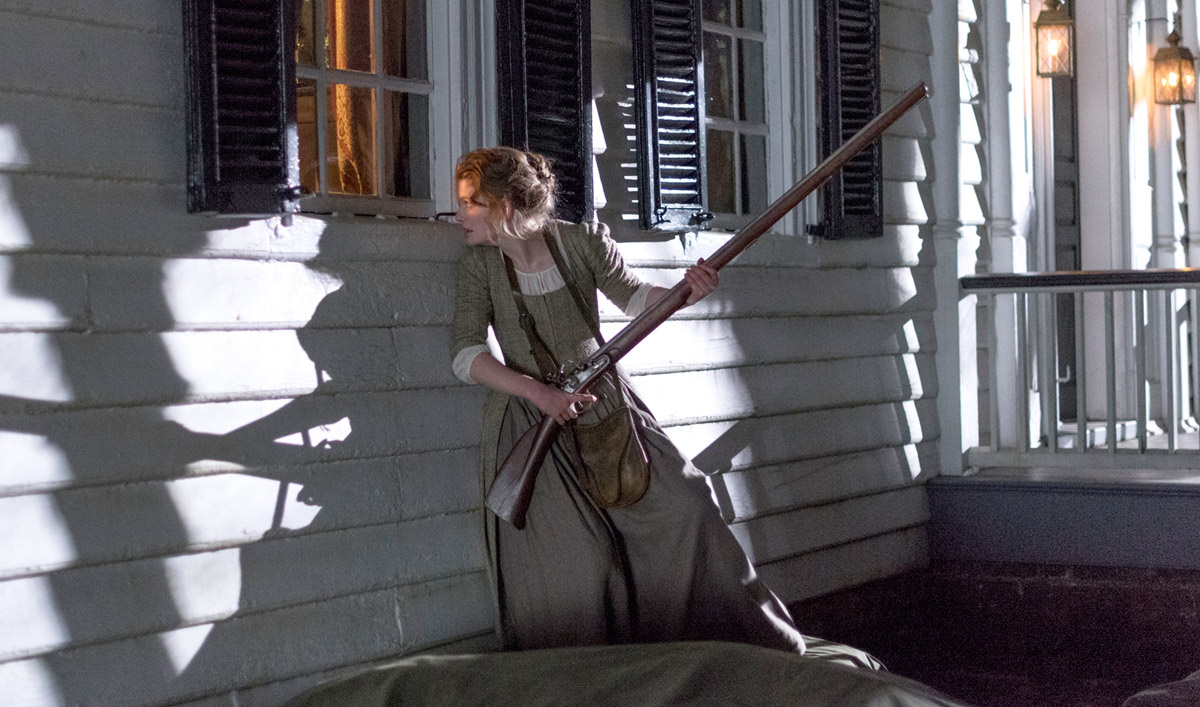 Meegan Warner, who plays Mary Woodhull on TURN: Washington's Spies, talks about Mary's epic assault on Whitehall, the difficulties of riding a horse in a corset and her family's memorable visit to the set.
Q: Mary is the real MVP of Episode 7. What was it like playing a character who goes from "only referred to as wife and mother" to a sharpshooter and murderous "mama bear"?
A: It's really satisfying to see Mary develop into this unpredictable force. And I'm really thankful to the writers for taking her character in this direction because it could've gone down that stereotypical road of the wife being nothing more than an obstacle for the man — and that's boring and lazy and untruthful. Having this complicated pair find a way to help each other and work together is far more interesting to perform and to watch. Abe and Mary have such a complex relationship and it's one of my favorite things to explore playing this character.
Q: In the beginning of the episode, Mary sets the Queen's Rangers on Caleb. What is her thinking there? What is she hoping to accomplish?
A: I think at this point Mary's brain is working a mile a minute to try and come up with some kind of plan to get her family out of this mess. It's a very spontaneous idea and she hasn't fully thought it through so poor old Caleb is pretty much thrown under the bus, but it divides Simcoe's forces making it easier for her to get close to him.
Q: It seems like everyone is trying to kill Simcoe this season, but only Mary came close. What did you think when you first learned the writers were taking Mary in that direction?
A: I thought it was really cool! I found out that this was happening before we even started filming the first episode of Season 3 so it really gave me something epic to look forward to. I kept hoping there'd be no rewrites!
Q: What was it like shooting that whole sequence of Mary's assault on Whitehall?
A: Filming that sequence has been my favorite thing I've gotten to do so far working on this series. I love doing stunts and physical scenes. Omar Madha, who directed the episode, was awesome to work with. It was a long hard day of filming because there was so much going on and there were so many little details that we had to capture in order to make the scene work. It was so satisfying when we wrapped though, which happened to be the morning of the 2016 blizzard, so everyone was cold and exhausted but I absolutely adored it. It was just so much fun.
Q: This episode is the first time Mary has ever killed someone: how do you think it will change her, if at all?
A: It'll be really interesting to see how the writers deal with this. I don't think you can kill someone and not have it affect you in some way shape or form. Who knows, maybe she'll develop a taste for it and become a female Simcoe.
Q: What kind of challenges are there to playing a period piece? Does it get easier after three seasons, or were there any new surprises for Season 3?
A: Riding a horse in a corset, long dress and high heels is not ideal! I'm really not very elegant or graceful, so getting on and off my poor horse became a sitcom. I think there's always some level of difficulty working on a period piece because everything's so elaborate. On TURN, we only have eight days to film an episode so there's a lot to get done in quite a small amount of time. We have such an amazing crew and cast though, and everyone goes above and beyond to create this show.
Q: Have there been any particularly memorable moments from the set this season?
A: My mum, grandad and two little sisters had flown over from Australia to visit me. Unfortunately due to scheduling changes, the only day they could come and watch me work before flying home was the day we filmed the scene where I tear my dress off and get into the bath to wash the blood off my body. They'd never been on a set before and really wanted to see it, and I really wanted my family to visit this mysterious place I'd been working at for the past three years. My mum walked into my trailer that morning and I held up my wardrobe options which included the modest choice of either a g-string or little short shorts and I was like, "So this is my costume for today." My youngest sister came up to me after filming the scene and whispered "Meegy, it really looked like you were naked!" Movie magic.
Q: Thomas has grown so much since Season 1, but he's still a scene-stealer! When we first interviewed you in Season 1, you talked about the challenges of filming with a baby on set. Has that changed at all now that you're working with toddlers?
A: The boys are great. Now that they're older and they know what's going on I think it's a lot easier. They've always been good boys though. And they genuinely enjoy being on set.
TURN: Washington's Spies airs Mondays 10/9c. Receive show exclusives by signing up for the Insiders Club.
Read More