Uncategorized
TURN: Washington's Spies Spycraft Handbook – The Turtle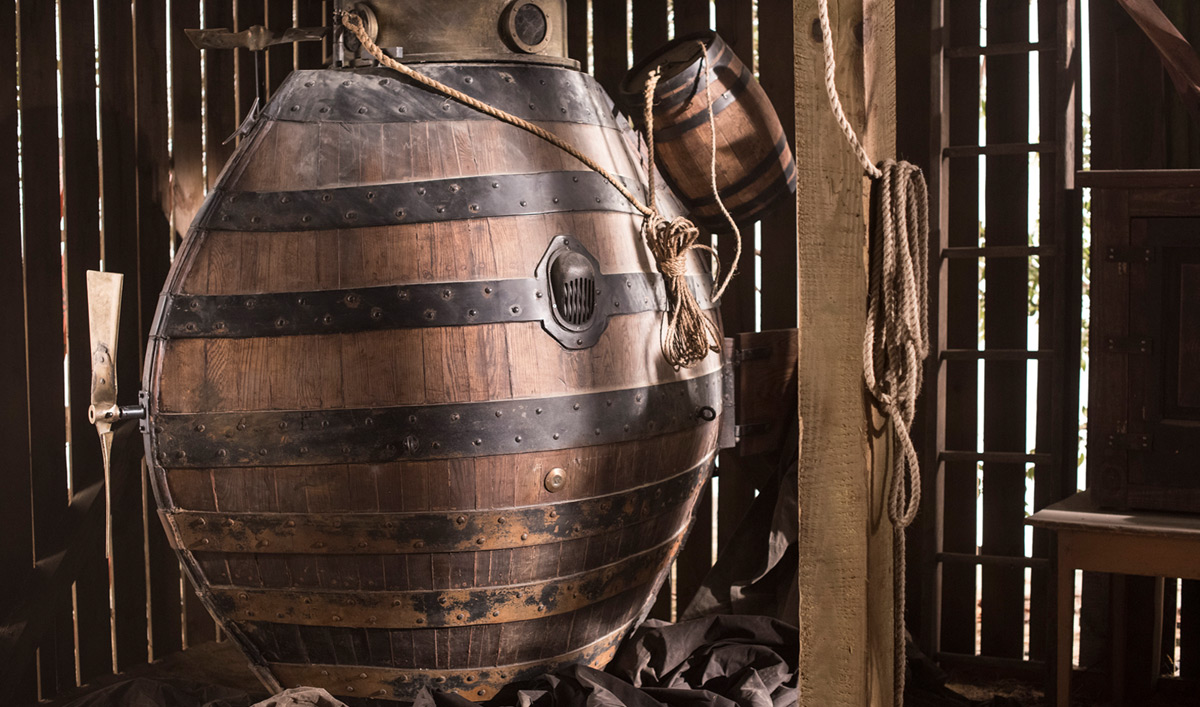 In Episode 8, Caleb takes the Turtle, America's first submarine, on a harrowing journey through New York Harbor.
Created during the Revolutionary War by Patriot inventor David Bushnell, the Turtle was a one-man submarine that was approximately ten feet long, three feet wide, and six feet tall.
Built by expert craftsman, the Turtle was constructed from two wooden shells made of oak, chiseled to fit together. Because solid oak is watertight, only the seam needed to be waterproofed, which was done by packing it with a tarred fiber called oakum. After waterproofing, an iron bar was fixed along the seam, and iron hoops bound the craft together.
The Turtle was piloted by using a hand-cranked propeller to move the vessel forward, and a bilge and crank to submerge and resurface the sub. In calm seas, the Turtle had a top speed of about three miles per hour.
At the top of the vessel, a brass conning tower with small glass panes provided natural light when the Turtle was surfaced and allowed the pilot to see in all directions, including up. While submerged, the pilot was able to read the Turtle's gauges because they were covered with a bioluminescent fungus called Foxfire.
The conning tower also included one of the Turtle's most ingenious design aspects: its air intake system. Two brass pipes fitted with three hollow wooden balls extended from the tower. When submerged, the balls would seal the pipes, and upon resurfacing, the seal would let go, allowing air to flow in. When submerged, the Turtle held about 30 minutes worth of air.
The Turtle's was built to sneak up on an anchored British warship and attach an explosive to the underside. A cask bomb filled with more than 100 pounds of gunpowder was attached the back of the Turtle, affixed with a timing device that allowed the Turtle's pilot to set the explosion to go off after his departure.
The Turtle's first expedition was authorized by General Washington, and took place in New York Harbor on September 6, 1776. Around 11PM, Sergeant Ezra Lee was unable to securely attach an explosive charge to the keel of the British flagship HMS Eagle, thought to be because his boring tool hit part of the Eagle's iron rudder. Several subsequent attempts in the following days to attach an explosive to other British ships anchored on the Hudson River also ended in failure.
In November 1776, during the Battle of Fort Lee, the Turtle was lost when the British sunk an American sloop that was transporting the sub.
Read TURN: Washington's Spies Spycraft Handbook – Maintaining a Cover Story.
Read More