Q&A
TURN: Washington's Spies Q&A: Samuel Roukin (John Graves Simcoe)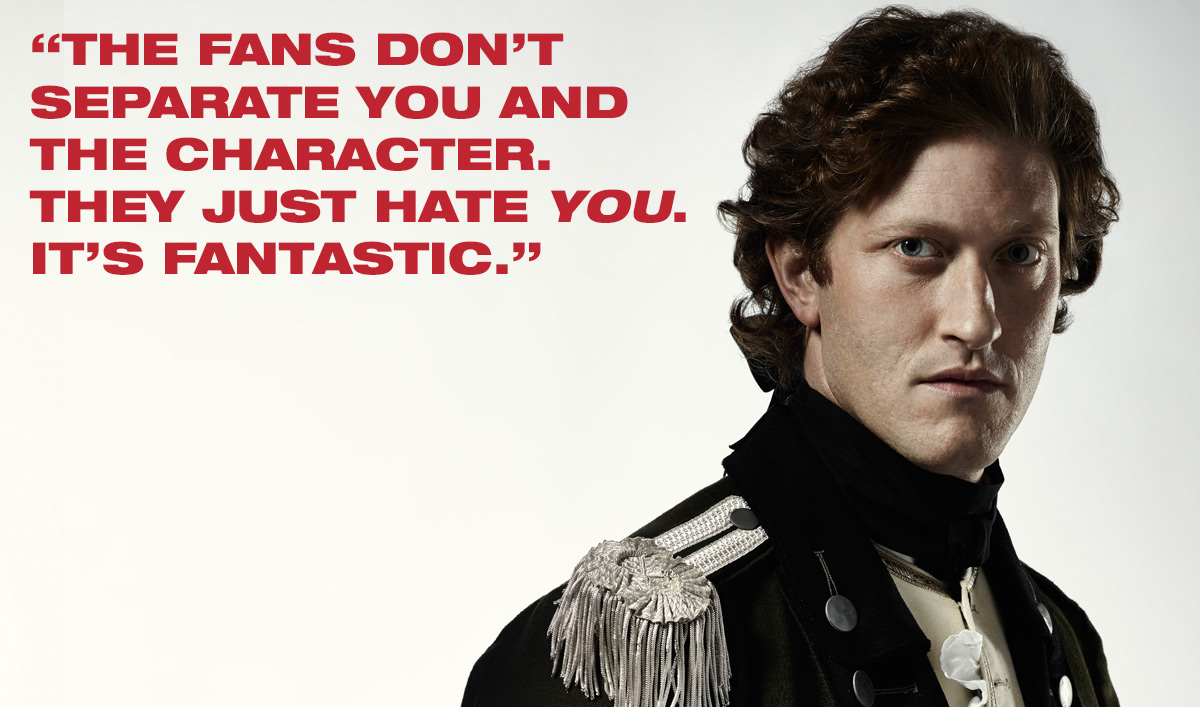 Samuel Roukin, who plays John Graves Simcoe on AMC's TURN: Washington's Spies, talks about playing a hated character, the softer side of Simcoe, and the visual transformation of his character in Season 2.
Q: Simcoe has attracted a lot of attention from fans, and you've previously mentioned people approaching you to tell you how much they hate him. Have you been enjoying playing a character the fans love to loathe?
A: Actually, they say, "I hate you." The general public doesn't separate you and the character. They just hate you. It's fantastic. I love playing this character regardless of whether he's good or bad. He's a layered, complex, unpredictable human being. For me as an actor, that's the most exciting challenge to have and that's where the enjoyment comes from: the challenge of fulfilling all the different areas of this guy. The reaction tells us that we're in the right place with him, and that's encouraging. The more people that come up to me and tell me that they hate me, the more I know I'm doing a good job — and I'll keep working harder to earn more hatred!
Q: At the beginning of the season, Simcoe is stuck in a file room, filling out forms. Is that the worst kind of punishment for someone like him, perhaps even worse than death?
A: Absolutely. When we got to the end of Season 1, I didn't know what the beginning of Season 2 would look like. As I started thinking about it during hiatus, I thought, "Well, he's got to be punished," but he'd already been in prison when he was captured. When I got the first Season 2 script and saw that they had made him into a desk clerk, I just thought, "A man whose vigor and purpose comes from the battlefield and military exploits — you couldn't shackle him more than putting him into a basement where he has to do an office job." It was an awful punishment, and definitely way worse than any kind of prison. He'd have quite a good time in prison — he could still torment the guards, and he would probably work out how to get out. But doing that job was a punishment worse than death.
Q: John André rescues Simcoe from office work and puts him in command of the Queen's Rangers. The real-life John Graves Simcoe commanded the Queen's Rangers as well. Did you do any research into that time in his life, and what Simcoe was like as a leader?
A: He wrote a military journal throughout his whole career as a soldier. There's a detailed account of what the Rangers did, and you can glean quite a lot from just how much of an incredible fighting machine the Rangers became. It tells you a lot about how Simcoe went about his business, and the respect he earned. There's been a lot of good information that's come from history books to help me bring him to life, along with the abundant supply of great writing we have on our show.
Q: In Season 2, Episode 6, Simcoe tells Anna he's "a warrior, not a monster." Do you agree?
A: Exactly. That sums it up. That is the window into Simcoe's perspective on himself. He takes great offense when his character is questioned and when his intentions are questioned, because in his mind, he's behaving perfectly. It's hurtful that she would think he's a monster, and crucial that everybody in his life understands that he's a warrior. He doesn't have to prove that, but he just doesn't understand why anyone would think he's a monster. It's such a revealing comment from Simcoe, and I think it should deepen our understanding of how he justifies his actions. It's interesting that these moments that reveal who Simcoe is comes out with Anna and not anybody else. That's really key.
Q: Simcoe also tells Anna he has a heart and wants love. How do you approach portraying the softer side of someone with such violent tendencies?
A: Well, he's a sweetheart, isn't he? I'm kidding! The way I look at it is this: He's a human being. Even though his moral compass is in a completely different place from yours or mine, it doesn't mean he doesn't have primal instincts and the desire for love and affection like everyone else. So, for me, it's very easy to square away this whole Anna situation. What's interesting is that it's completely unrequited, and he just doesn't get it. That's what's peculiar about the guy. What's more peculiar is that he wants it. Simcoe can't control how Anna Strong is going to respond. He's just going for everything he wants in a way that he knows how to do that. He's following his heart, isn't he?
Q: As a Ranger, Simcoe now wears a green uniform. Do you prefer it to the red one? Are you enjoying showing your own hair instead of wearing a powdered wig?
A: The good thing for me is that if I'm in a green coat, I'm not in a wig. It's really nice to not have the wig. In some ways, I think it humanizes Simcoe more that he's not part of a flock of sheep anymore. It's very easy to hate the Redcoat, but we invert that somewhat. The green Ranger uniforms are actually closer in their look to the rebels than they are to the Redcoats, and I think it's true of what war is: How do you work out who is the enemy and who isn't? It's pretty incredible to see the visual transformation that the characters have from one season to another. It's so cool for me as an actor.
Read an interview with Kevin R. McNally, who plays Judge Richard Woodhull.
Read More