Q&A
TURN Q&A – Kevin R. McNally (Judge Richard Woodhull)
Kevin R. McNally, who plays Judge Richard Woodhull on AMC's TURN: Washington's Spies, talks about his character, the roles he'd most like to play, and the trick to appearing intoxicated on screen.

Q: In one word, how would you describe Judge Woodhull?
A: Loyal. He's loyal to the crown, to his family and to the people he believes are in the right. On the other hand, when it comes to people he doesn't believe are in the right, he's quite stern.
Q: Prior to filming, did you do any research on the real Judge Woodhull or the role of magistrates during Revolutionary times?
A: The real Judge Woodhull wasn't really like the judge that I'm playing, but I understood that a magistrate at the time was a leader of the community, not only the man who dispensed justice. They were sort of like village elders — someone to come to when settling disputes. You wouldn't be wearing a wig or be in court — he'd go to the church and use his wisdom and standing to settle the community.
Q: Judge Woodhull gives an emotional speech during Episode 4, "Eternity How Long," before digging up his son's gravestone. Talk a little about how you prepared for that powerful scene.
A: It's not so hard to imagine that in a small community, the idea of disturbing your very ancestors and your legacy would be something disturbing to do, and something disturbing to see somebody do. Apart from studying the lines, one of the things I thought of was the graves of my own parents and grandparents, and how I would feel if somebody were to move those for some reason that I regarded as not as important as the legacy of their lives. That was a good image to hang on to, something personal to me, which is something as an actor I rarely do. I try to be in the character, but I felt it was something useful for me, as Kevin McNally, to think about.
Q: You also had to act drunk in Episode 4. What's the trick to appearing intoxicated on-screen?
A: There are two things you need to do. One is to have been drunk at several points during your life, and the other trick is to try to get yourself into the frame of mind of being drunk, but make your efforts be absolutely stone-cold sober, because nobody tries to act more sober than a drunk!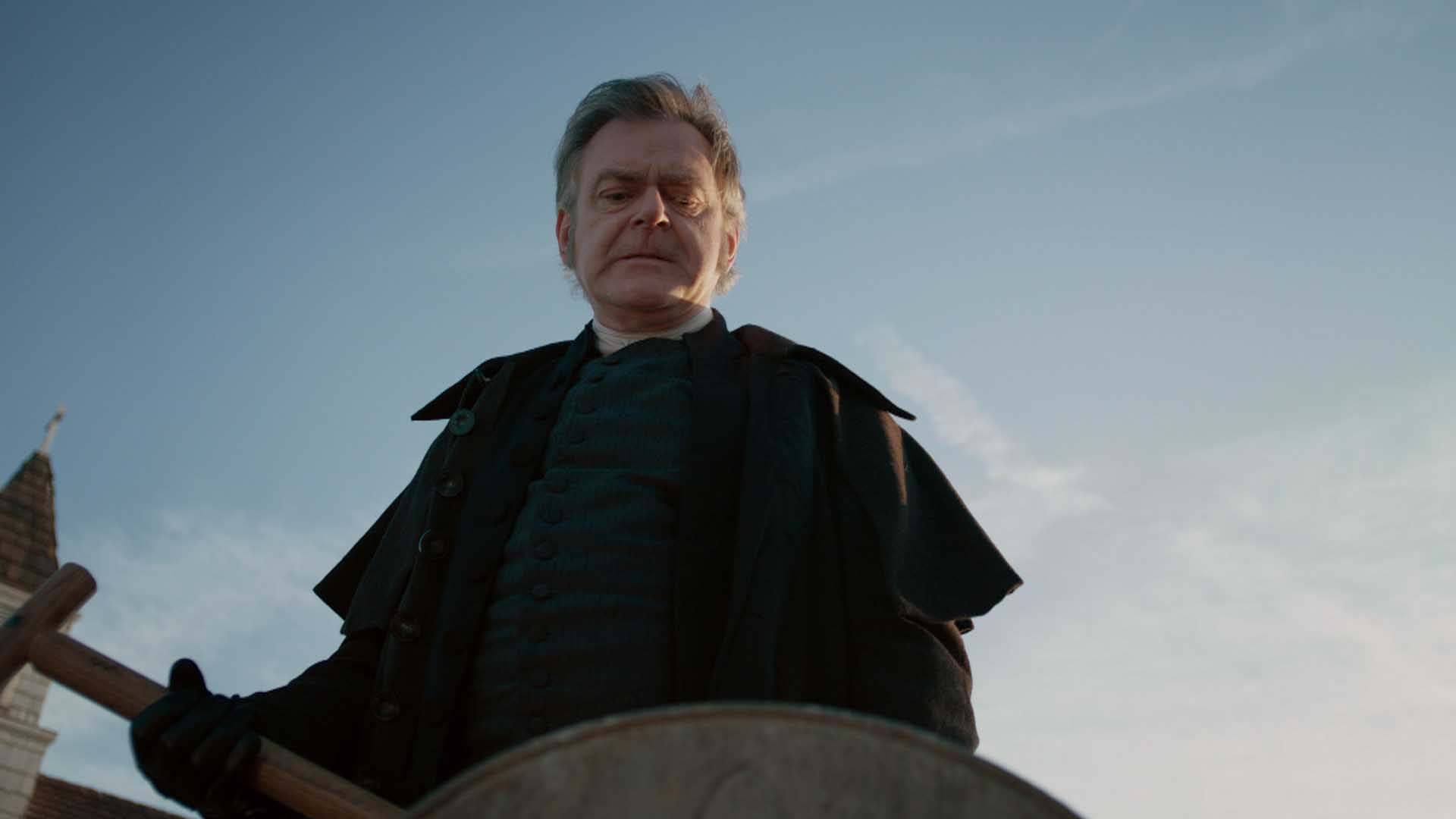 Q: You've previously appeared on stage, including starring in Hamlet opposite Jude Law on Broadway. Does your background in theater inform your work as a television actor?
A: Yes. Theater helps you learn how to rehearse yourself and prepare a role. You have to know how to use your time at home before you turn up, and not just learning your lines and knowing them well. The more of that you do, the better you'll be. It's good to go onto set with something in your pocket and it's no good just turning up with a blank page.
Q: You've also previously worked on a number of different TV series, from CSI to Supernatural. How does your experience on TURN: Washington's Spies compare?
A: I've done episodes, but what was great was that this was my first time as a regular on an American TV show. I was very pleased that my first regular role was in something of a weighty nature. I felt that if I were to do the show for a few years, it would really hold my attention and be interesting to see how all of the characters develop. This show really tells you how actual people in the past responded to actual events, and that's an interesting thing as an actor.
Q: You've played a broad variety of characters, from a pirate to a prime minister. Is there a role you haven't played yet but have always wanted to?
A: There are four: A spaceman, a cowboy, a deep sea diver, and a frightening horror monster. When I've done those, I'll be very happy.
Q: You're a fan of The Walking Dead. What kind of character do you think you'd play if you were cast on that show?
A: I think I'd be The Governor's slightly stupid older brother. I've pitched this idea to David Morrissey. If not, I'd like to be the first trained zombie, maybe do a little light housework. [Laughs]
Read an interview with Meegan Warner, who plays Mary Woodhull >>
Save
Read More