Q&A
TURN: Washington's Spies Q&A – Meegan Warner (Mary Woodhull)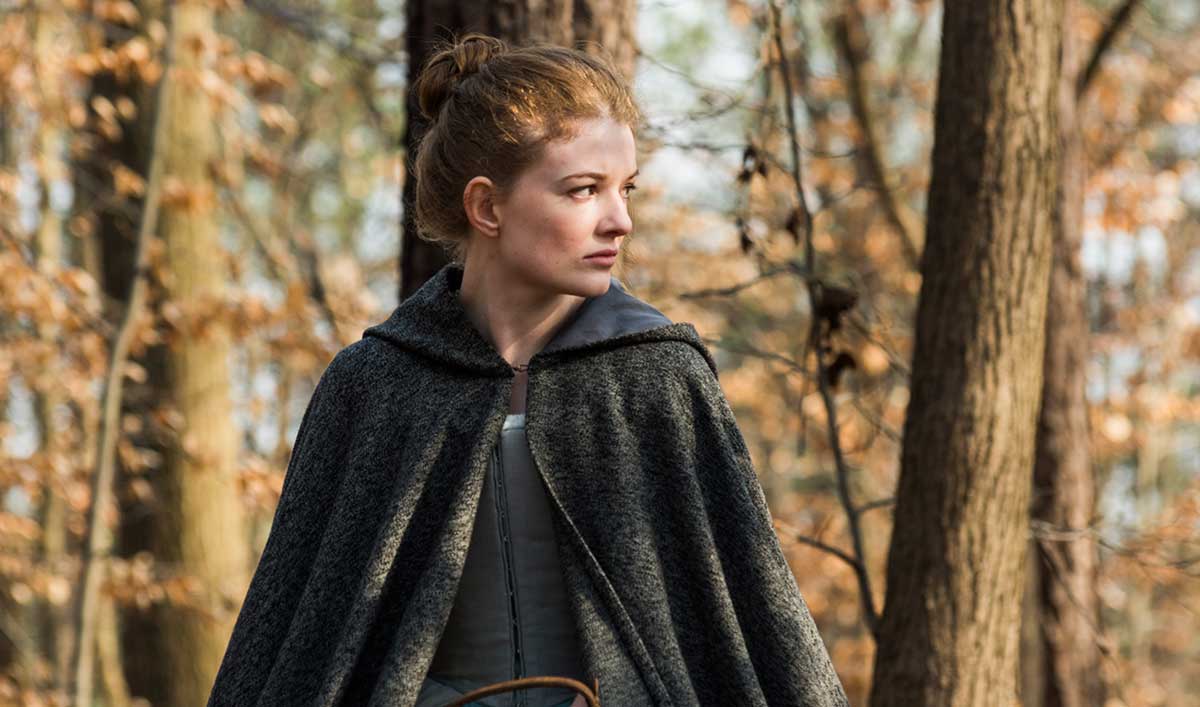 Meegan Warner, who plays Mary Woodhull on TURN: Washington's Spies, talks about Mary's new life in the Continental Camp, getting to share more scenes with the Culper Ring, and Mary's journey over the course of the series.
Q: Mary's life takes a turn for the worse in Episode 5, when she's forced to hide out in the Continental Camp, which is certainly not the sort of life Mary is used to. What do you think Mary is thinking about this whole situation?
A: At this point, Mary knows that the Continental Camp is the best place for her to go. She knew she would have to go there eventually, so I think she's accepted this is what's best for her family. Now that Richard has been killed, Whitehall is no longer a safe place for her to live.
Q: In this episode, you go from wearing beautiful dresses to being covered in dirt and grime. What was it like portraying Mary in such a starkly different setting?
A: I found it exciting to put Mary in a different environment. I really enjoyed working on the camp sets. It was nice to film outside. And I preferred wearing the less fancy attire. Those dresses were slightly more comfortable and easier to move around in. I also got to wear flat shoes which was awesome, and had less time in hair and make up every day because Mary didn't have to look quite as put together, so that was a bonus!
Q: You got to share a lot of scenes with Daniel Henshall (Caleb Brewster) this episode. Was it nice being able to reunite with another Aussie on set?
A: It was wonderful to work with Dan. He's so friendly and ridiculously talented. And it was great to have the opportunity to work with some of the other cast. Everyone brings such a different energy and it's a great learning experience just to see how the other actors approach their work.
Q: Mary can sometimes be a little isolated at Whitehall in her scenes. What was it like for you to shoot with the rest of the Culper Ring so much for this episode?
A: It was exciting! It's always better having another person to play off of in a scene. It was very re-energizing working in a different environment with different actors. And it was fun to explore another side of Mary, to see how she copes with all these new experiences being thrown at her. I also adored working with Tina Benko (Mrs. Barnes). She's just wonderful.
Q: When Mary bursts into Ben's tent and demands to know about Abe's safety, Ben treats her surprising coldly. What's it like for her to so rudely be put in the dark?
A: Mary doesn't expect to be treated the way that she is. Ben told her upon arrival that if she needed anything she could come to him, and she takes him for his word. I think she's taken aback to be shut out, because for a while now she's felt like part of the team. It's frustrating for her to be swept aside and dismissed. She's alone again and that upsets her.
Q: Do you think the war would be over faster if Washington just released Mary on the Redcoats to browbeat the British generals into submission?
A: [Laughs] I suppose Mary can be quite intimidating when she wants to be, so we can only imagine! I wouldn't want to run into her in a dark alleyway!
Q: Just like Abe at the moment, Mary is thrust in a new situation where she has to craft a new identity and lie off the cuff all the time, or risk exposure. How do you think she'll cope with being undercover in her own right?
A: It'll be interesting to see how she deals with this. She's a quick thinker and while she has been actively involved in helping Abe these last few seasons, she's never had go undercover herself. She's no longer in the comfort of her own home and there's really no where to hide. She has to constantly "perform" and watch her back.
Q: Mary has grown significantly since we first met her in Season 1. How would you describe Mary's character arc over the series?
A: She's grown so much as a character. I consider myself really lucky to have had the opportunity to play her. She started off as a young women who I think was really trying to be the perfect wife and mother – really trying to play into the idea of what was expected of a women during that time period. But we've seen her come into her own, which has been so satisfying to portray. Mary's clever, brilliant in a crisis and a lot stronger than she's given credit for.
Click here to read a Q&A with Seth Numrich, who plays Ben Tallmadge.
Watch the latest episodes now on amc.com and AMC apps for mobile, Fire TV, Xbox One, Apple TV, Roku and Chromecast.
TURN: Washington's Spies airs Saturdays at 9/8c.
To stay up-to-date with all the latest TURN: Washington's Spies news, sign up for the TURN: Washington's Spies Insiders Club.
Read More