Q&A
TURN: Washington's Spies Q&A – Ksenia Solo (Peggy Shippen)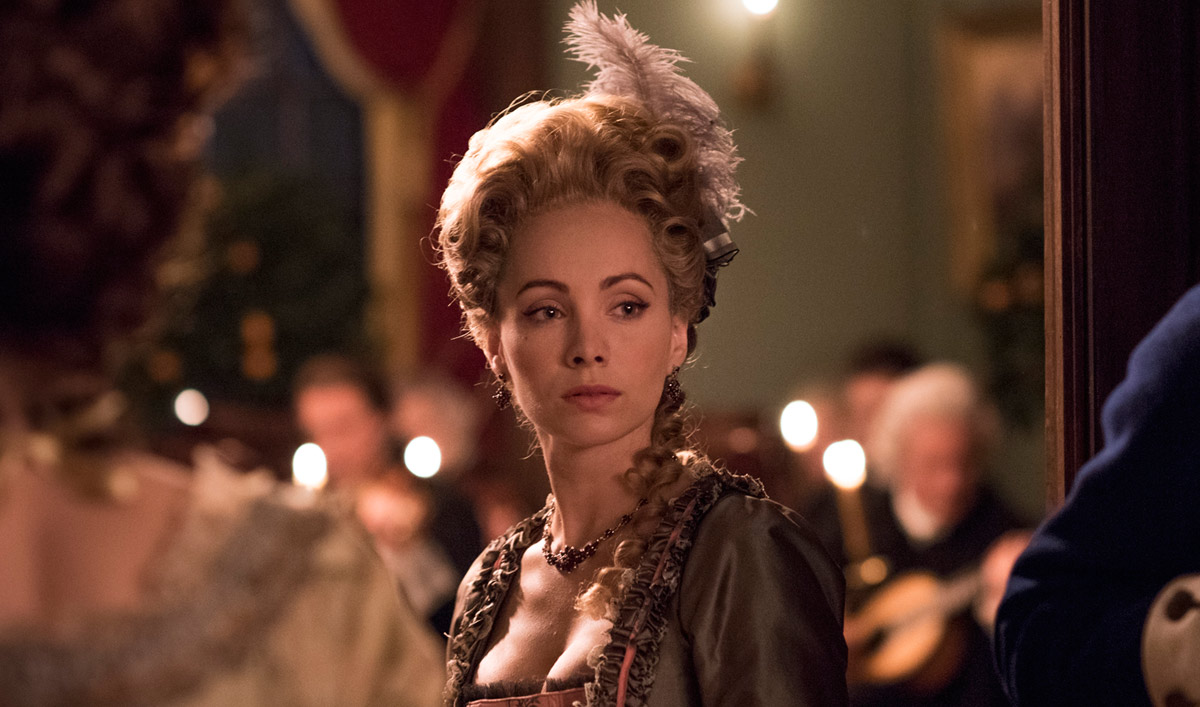 Ksenia Solo, who plays Peggy Shippen on TURN: Washington's Spies, talks about Peggy's heartbreak in Episode 6 and the volatile relationship she has with her corset. 
Q: What kind of research have you done to inform your portrayal of Peggy?
A: Drunk History was definitely a fun place to start. There are a few books out there, and upon learning that I got the role, I quickly got my hands on some, including Treacherous Beauty and the Traitor's Wife. I also educated myself on all the details of the Revolutionary War. I wanted to be as familiar with that period of time as I could be. I love doing research for my roles, so I was excited to do it.
Q: Did you learn anything about the character that fans of history might be surprised by?
A: I think that Peggy was a mystery in a way. People thought of her as the Paris Hilton of her time, a party girl, but there was a whole different side of her. It was only after the fact that it was discovered that she played such a big role in Benedict Arnold's defection. I think that was the most interesting detail to me, how deeply she went under the radar in her manipulation of Benedict.
Q: It seems she's almost just as much a spy undercover as Abe Woodhull or Anna Strong in the Culper Ring.
A: I think Season 3 definitely shows that, too. The things Peggy has to do, the sacrifices she has to make, the secrets she has to keep. I think she's proving that she can handle it and that she's doing things that are meant for a real spy — and I think she's accomplishing her task well.
Q: How does your character view Benedict Arnold on the show, in your opinion? Have the lines blurred between facade and fact over the course of the last two seasons now that they've spent so long together?
A: I think at this point, if we are fresh off of Episode 6, Peggy still views Arnold as this extremely ambitious, proud, impatient, rough-around-the-edges kind of a man, a man who's main concern is his reputation. But as the story continues, and Peggy gets this heartbreaking news from New York that John André may be involved with this woman named Philomena, I think Peggy may be forced to very quickly look at Benedict in a different way. Her life will depend on it, and I think that will make her aware and more sensitive to Benedict's more vulnerable side, and we'll see how that unfolds and what decisions she has to make moving forward.
Q: What is it like for Peggy to be sacrificing so much for André, only to learn he's been with someone else?
A: Simply, it's heartbreaking. She's in a very tough situation because she's at this party with everyone and there's no escape. She has to swallow down her pain and her worry. Of course, at that moment, General Washington asks her to dance right in the middle of her trying to calm herself down. I think her main concern in that moment is keeping up the facade of the host and making sure that nobody realizes that something has happened. It's very difficult for her, as we see. I feel for her. Poor Peggy.
Q: Does she care at all about dancing with the leader of the colonies, or is she more blasé about it since her allegiances are with André?
A: When Washington does first come to the house and she finally meets him, I think that's a big moment. It's another step deeper into this world and she needs to be the best spy she can be — and get André what he needs from Benedict. But I think by the time the General asks him to dance, she's in a completely different world, just trying to not break down. I think her thinking is very foggy at that moment, so by the time they get on the dance floor, she's just trying to survive and keep up the appearance.
Q: What was it like shooting that elaborate dance party scene?
A: Owain [Yeoman, Benedict Arnold], Seth [Numrich, Ben Tallmadge], Ian [Kahn, George Washington], Lilli [Birdsell, Martha Washington] and I had a lot of fun rehearsing for the big ball scene in Episode 306. I have some video evidence that I could use as blackmail if I wanted to… But it was nice. It was a different experience. There's a lot of gunfire on the show, but there's not much dancing, so it was nice to get to experience that with our lovely men. Lilli and I were very proud of all of them as they did a wonderful job. I had a blast with Ian. For us, it was such an epic moment for our characters to not only meet but to be dancing with all of the emotion that was behind it. He was a great dance partner. [Laughs]
Q: Has getting into costume gotten any easier?
A: I like to compare my corset to a leather jacket: it molds to your body after you wear it for awhile and then it fits like a glove. I feel like after two seasons I'm finally at that place with my corset. It's a very sensitive and volatile relationship. It takes a village to get me ready. We have an incredible team on board. They make it as easy and smooth and fast as possible, and at this point we're a well-oiled machine, so the mornings have definitely gotten smoother over time. But it's fun: The transformation process of coming in in the morning in sweatpants and Uggs and emerging from my trailer in one of my many beautiful dresses with my hair and makeup — it's very fun. It may not be the most comfortable that I've ever been but it's well worth it.
Q: Do you have any favorite dresses from this season?
A: Asking me to pick a favorite dress is like asking me to pick my favorite dessert! It's almost impossible for me to pick because each dress is so beautiful for its own reasons. The accents, the detail – I would have to say I'm in dress paradise this season and I can't pick just one.
TURN: Washington's Spies airs Mondays 10/9c. Receive show exclusives by signing up for the Insiders Club.
Read More