Q&A
TURN: Washington's Spies Q&A – Kevin R. McNally (Judge Richard Woodhull)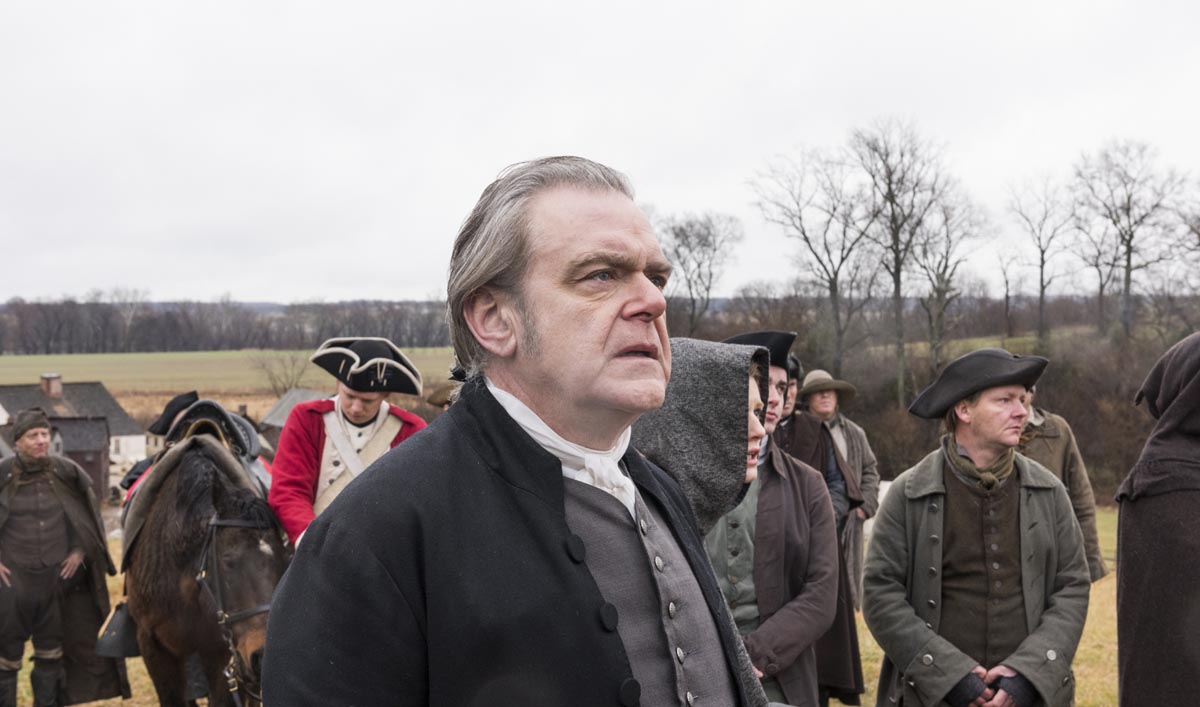 Kevin R. McNally, who plays Judge Richard Woodhull on AMC's TURN: Washington's Spies, talks about his character's skewed loyalty, battling Captain Simcoe's "reign of terror" in Setauket, and what it would take for Richard and his son to see eye to eye. 
Q: When we first spoke to you in Season 1, you said the one word to describe Richard Woodhull was "loyal." Has that changed?
A: I think it's probably best described as skewed loyalty. [Laughs] I'm finding that a lot of the fans of the show are really against the Judge at the moment. He obviously took his beliefs and his views to a personal extreme in Season 3. He must be in a rather strange state to be prepared to put his son in danger and to even give his son up. He feels he's failed so badly with Abe that he can make up for that by rescuing his grandson and bringing him up right. I had some hope that the Judge might change sides, but I think he's too entrenched now.
Q: Is he still very much a Loyalist even after he gets the British to take care of Simcoe and rescues Abe in the Season Finale?
A: I think he still is. There was certainly hope in him rescuing his son from the gallows, and it showed he kept some humanity. That was a chance at them coming to some reconciliation in the future, but it's still a long way off as long as they're on opposite sides of the war. By getting the British to get rid of Simcoe, he believes he's doing the work of the King because he regards Simcoe as a renegade. I don't think it indicates that he has changed sympathies. He's still a redcoat at heart.
Q: Simcoe wages a one-man war against Setauket and it's largely motivated by the list of names that Richard gave him. How do you think Richard feels knowing he's helped bring that reign of terror to the town?
A: I think he must have felt very guilty about it because, although he did indeed destroy the livelihoods of several people, it was for the great cause of ultimately getting rid of Simcoe. The trick he pulled on Simcoe was a clever one, but it was a very brutal one. A lot of people suffered. I guess there's a stage in any conflict where people stop choosing between right and wrong and start choosing between the lesser of two evils. I think that's where the Judge has gotten to. I think his actions win the town back by getting rid of this "reign of terror," but I think the problem will always be that he's never going to have the family he wants. The only way I believe he'll ever move forward is to change his expectancy. Until he realizes that the notion of trying to gain freedom from oppressors is a good one, he's always going to regard his son as a criminal.
Q: Richard gives his son up in Episode 1, but ends up saving him in the Season Finale. How would you describe his arc through this season?
A: What we have to remember is that this man is a judge and a father and I think he believes he's doing the right thing when he sells him out. I don't think he's thought it through that well. When it actually comes to seeing his son's execution, the father fortunately takes over. Richard's battle has been in a way like Abe's has been: He's a reluctant Patriot. In a sense, it's the actions of his father that's made [Abe] a committed Patriot. The Judge has a real inner turmoil about himself as an authority figure both politically and in terms of family. What's prominent in his mind is finding reconciliation within the family, but for that to happen, either Abe or the Judge is going to have to seismically shift their view. I don't see either of them doing that. Knowing what we do about history, it's going to be a very bleak future for the Judge if he doesn't change his views. [Laughs] A lot of people are going to want retribution.
Q: What was it like for you and the rest of the cast to film that harrowing hanging scene?
A: It was exhausting. The emotions involved were extraordinarily high, but it was very gratifying to play because the writers aren't flinching in their analysis of the inner family tensions. They're not afraid to go there and that scene really proved that. We tried to keep it as lighthearted on the set as possible, but we were very conscious of being responsible to that storyline. It had to be committed and emotional as indeed any real event like that would be.
Q: In the Season Finale, Abe confesses that he started the riot that killed his brother. What's that revelation like for Richard?
A: I think it's devastating. It partially breaks him as a person because he plainly preferred that son. In a way, it could also be the case that as he becomes used to that idea that perhaps it's a great way of getting rid of guilt and anger. If he processes that information well, I think he realizes he can't bear to lose another son.
Q: You play quite a few scenes with little Thomas. What's it like working with actors who are so young?
A: I've had the experience before, so I've found a good way to work with kids. Our twins who play the role are really fantastic. It's very rare that they play, as we call it, "screaming relay." That's when one comes on set, starts screaming and has to go out, and the other one catches it on the way in. They're pretty calm and know what they have to do. Very often we have to stop them from improvising! If we ask them a question, they're not supposed to answer, but they'll try to come up with an answer for you. It's been fun watching them grow up.
Q: You've mentioned previously that you're a history buff. Were there any particular moments from this time that you enjoyed seeing on the show?
A: I absolutely loved the way the second and third seasons have moved on to the intrigue of the Patriot army, George Washington and Benedict Arnold. I've been really enjoying that aspect of it and it's really nice to experience the war through a personal story, as all great drama does.
Read an interview with Samuel Roukin, who plays Captain Simcoe.
Receive show exclusives by signing up for the Insiders Club.
Read More