Q&A
TURN: Washington's Spies Q&A – Nick Westrate (Robert Townsend)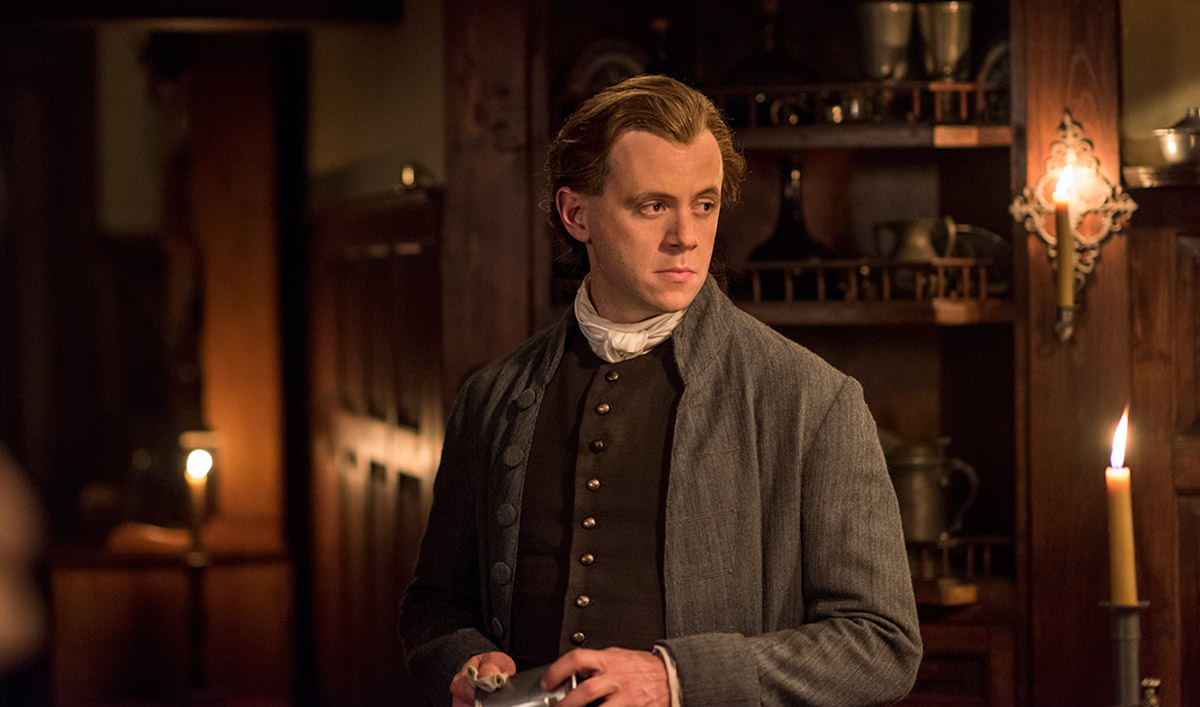 Nick Westrate, who plays Robert Townsend on TURN: Washington's Spies, talks about that tense dinner scene and the one thing he's learned from playing the man with the "best poker face in the show."
Q: When you first started in Season 2, what attracted you to the character of Townsend?
A: The character of Townsend fascinated me, and he intrigued me from the very first time I read Alexander Rose's book. Half of him is committed to being a spy and wants to help Abe, and the other half is completely against warfare of any kind, even intelligence of any kind for warfare, so watching him wage that battle is fascinating. Plus, he shows so little of it. He's got the best poker face in the show.
Q: Were you interested in this era of history at all before joining the cast?
Yes! From the time of my childhood actually. My father is a history professor, so we grew up going to American Revolution battlefields and Civil War re-enactments, so this job is also a dream come true for my family, because they love history so much.
Q: Did your father help you prepare for the role in any way?
A: My father has sent me so many things over the past two years that I've been doing the show.
Q: Townsend is a tangled web of polarities: a Quaker who celebrates holidays and carries weapons, and, obviously, spies for the colonies. What's it like for you to play a character who frequently acts against his values?
A: It's really exciting to play a character like that, because it's never just one thing. His decisions shift from moment to moment based on the circumstances. It surprises the audience of the show, I think it surprises the writers when they write it, it surprises me when I play it, and I even think Townsend is surprised by his changing nature as time goes on. I think he's so divided that there are these two sides of himself. There's this passive, Quaker side, and then there's this adventurous side of himself and he follows one or the other depending on the circumstance.
Q: Episode 6 is a big episode for Townsend: he discovers that Abe and the Ring actually staged the attack on his father and he fights off Robert Rogers. What's that moment like for him, to discover he's been betrayed by these people when there's already so much on the line?
A: His entire life is on the line in that dinner scene, as well as the life of his family and their entire reputation. He entered into this ring based on his trust in Abe, and that's all completely dashed in this moment. Everything he's risked, all of the compromises that he's made with his religion and his family and his own character, everything crashes down. He wonders even if he's picked the wrong side. The only thing he can do is to get them as far away from his home as possible, and to completely disconnect. It's frustrating for him, since I feel like he finds a great sense of purpose in the Culper Ring, and actually finds a great sense of pride through his work with them, even by his father and everything. Now, all of that has been dashed by Abe and Anna and Caleb.
Q: What was it like shooting that elaborate dinner scene?
A: It was one of the highlights of my work on the show, to do that scene with Heather and Dan and Jamie and John and Angus, all of us around that table, was so much fun. It's such a brilliantly written scene and we had such a blast shooting it. It was a very late night on the set, and it was a very long day, but everyone on the set has a great sense of humor and everyone respects each other's process
Q: You've said the one thing you learned from playing Gloria in Casa Valentina is "Moisturize, moisturize, moisturize." Is there anything you've learned from playing Robert Townsend?
A: I think what I've learned is that indecision is sometimes the most fatal mistake. When he is indecisive is always when he falters on the show. In war, indecision is the most troubling, and I think the people who are the most "successful" on the show — Simcoe, Rogers, for example — are the ones who are most certain in their actions and beliefs.
Q: Yet again, we're living in a time of very divisive politics. What's it like watching the political sphere today having been immersed in the story of America's beginnings?
A: It's fascinating to do this show with the current political climate. What I'm constantly reminded of — by what all of these real people risked in their lives — is that there's no room in America for people to stay out of the political process. What these people risked for us to get this far, and to maintain peace and democracy, everyone has to get involved. And that's something I've learned from Townsend: he does not do well on this show when he disengages from the Ring. You have to put some skin in the game and once you do, you have to keep it in there. You have to be engaged politically in this country. The more of us that get involved, the better the system will be.
TURN: Washington's Spies airs Mondays 10/9c. Receive show exclusives by signing up for the Insiders Club.
Read More