Q&A
TURN: Washington's Spies Q&A – Angus Macfadyen (Robert Rogers)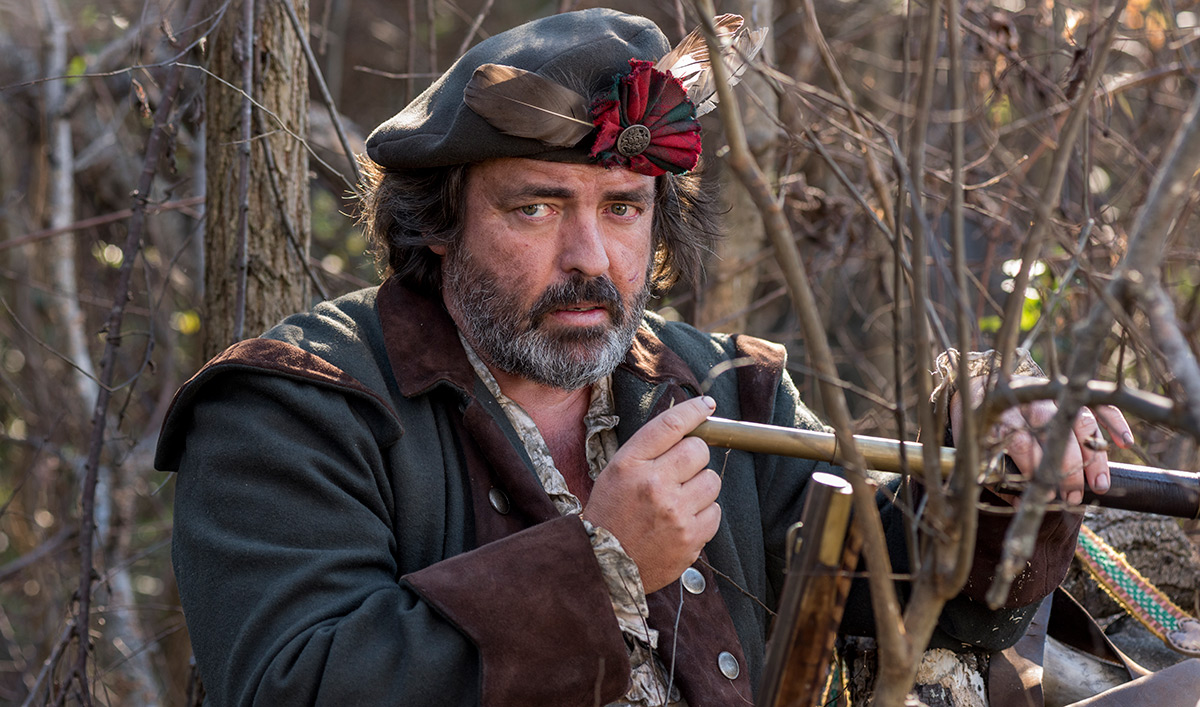 Angus Macfadyen, who plays Robert Rogers in TURN: Washington's Spies, discusses a little-known fact about the real-life mercenary and Rogers's unique relationship with Abraham Woodhull.
Q: When we interviewed you during the very first season, you were just learning about the real-life Robert Rogers. Now that you've been portraying him for three seasons, is there something in his history that has really stood out to you as an actor?
A: I was surprised from the very beginning that he was actually a playwright and he'd written this play — a very modern play — which was sympathetic to the Native Americans and very condemnatory of his own society and what they were doing in America at that time. So, I found that very interesting. He was a guy who was ahead of his time in some way.
Q: Did his being a playwright make it easier for you to identify with him, having worked for so long in the theater yourself?
A: It certainly implied that there's another side to him that we don't often see. Somebody who has the ability to write a play and empathize with human nature is no fool. Even though he'd fought the Native Americans, he still empathized with them and disagreed with how they were treated militarily — which explains why he's not really on either side. He wasn't a Loyalist or a Patriot. He's not rooting for anyone.
Q: Rogers seems to be using Abe as a tool to get what he wants, but there doesn't seem to be malicious animosity there. In fact, Rogers even states that he likes Abe, despite being enemies of sorts. How would you describe this new relationship?
A: I think he's, in some strange way, like a father figure to Abe — and also a bit of a trickster from those Joseph Campbell books on mythology. He's a father figure from the dark side. He's a radical free agent.
Q: You've played many real-life figures like Rogers throughout history. Is there something about period dramas that attracts you in particular?
A: I do like the research. It's much more enjoyable if you're researching a period and doing the homework. And if it's a real-life character, there's stuff that's written for you. You don't have to make it up in your own head; their life is there for you to interpret. In a way, it's a little lazy, since someone already lived this life before you! All you have to do is figure out the puzzle.
Q: Not only is there a trend of period dramas on your résumé, but many of them, in particular, are about civilian uprisings like Braveheart, Equilibrium and Spartacus. Is the theme of rebellion interesting to you as an actor?
A: I definitely haven't played a lot of guys who are doctors or lawyers or cops or firemen or soldiers. I kind of veer away from a lot of that stuff. I wasn't going to do it in real life, so it doesn't particularly interest me in the fantasy world either. I'm much more interested in characters who live outside of society, who are loners or who are fighting. It just tends to be more interesting.
TURN: Washington's Spies airs Mondays 10/9c. Receive show exclusives by signing up for the Insiders Club.
Read More