Q&A
TURN: Washington's Spies Q&A – Jamie Bell (Abraham Woodhull)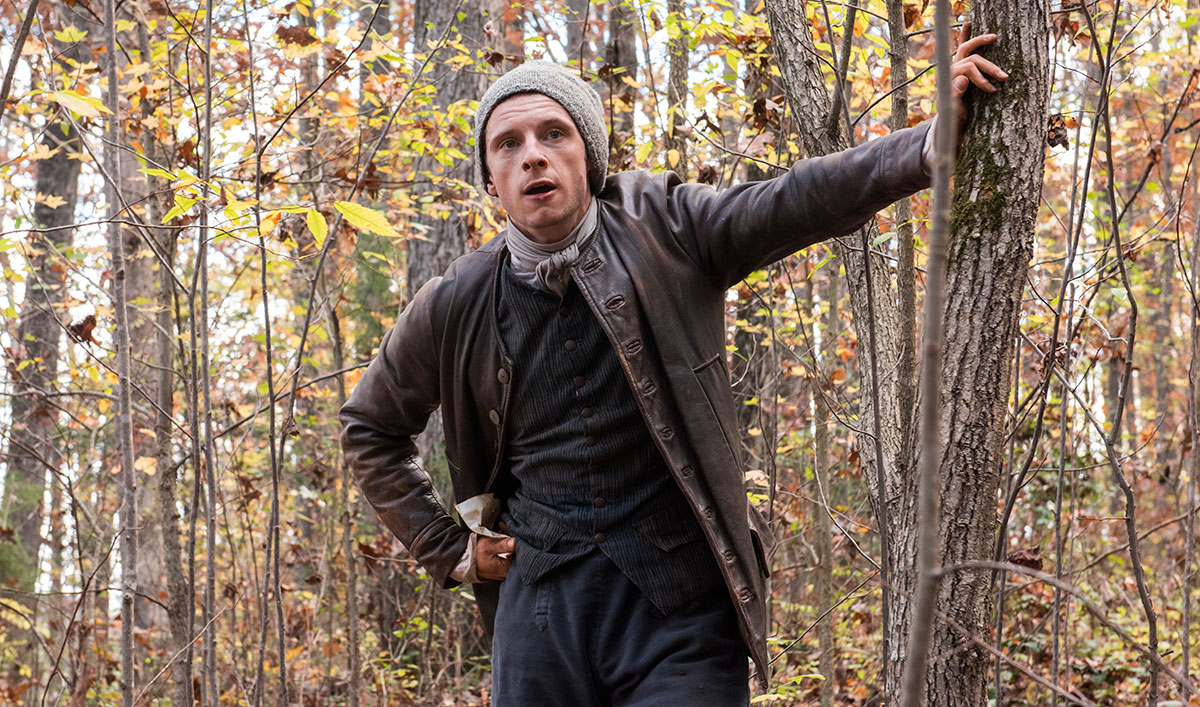 Jamie Bell, who plays Abraham Woodhull on TURN: Washington's Spies, talks about what fans can expect from the new season, the consequences of choosing a side and how the couple that spies together, stays together.
Q: In a behind-the-scenes video, Burn Gorman (Major Hewlett) says this season starts with a bang and just hits the ground running — what can fans expect from this upcoming season?
A: Well when you think of where we left off from the last season, my character in particular is in quite a predicament since he's in the clutches of the greatest mercenary and hunter that the frontier has known, Robert Rogers. We literally rejoin the season in the same moment, the very same second, that we left off on. For Abe, the stakes have never been higher, and I think the realities of his involvement in this ring become questioned. Is he important enough to the ring? Can they succeed without him? What does he do if he doesn't have the ring? He's got to put all of his eggs into this basket on this mission, and if he doesn't have that, what does he have?
Q: In Season 1, Abe was a cabbage farmer, and in Season 2, he was a full-on spy. This season, we see him struggling for control again after being found out by Robert Rogers. What is it like for Abe finding his power in Season 2 to struggling for power once again in Season 3?
A: I think in Season 3 he's constantly playing catch-up. He has been unearthed and found out, and he's trying to contain that. A lot of Abe's journey this season is containment, and controlling what people know. A lot of people find out his truth this year, and as a spy, that's probably the most dangerous thing. It's devastating. I think in some respects throughout this season, Abe should leave. He should say, "I've been found out, I should run away, I should hide until the war is over," but he doesn't. He keeps the spinning plates going. And I think in every episode this season, there's a new spinning plate that he has to deal with. Inevitably, of course, it's all going to come crashing down, but I don't think it's going to come crashing down in the way that people anticipate or expect. The writers this year have done a great job of keeping people guessing. So this year, it's all about catching up on his lies, creating new ones and remembering the old ones all at the same time. Sometimes, I was even confused while we made the season. But it's fun to see.
Q: Speaking of being found out, Abe's relationship with Mary seems to have grown to a place of understanding now that she's working with Abe in his spying efforts. How would you describe their current relationship?
A: It's always been clear that their marriage and their feelings for one another have been one of guilt — since Abe took Mary's hand in marriage because of his brother, and his untimely death. He's resented her for it; he doesn't feel like the man she deserves. I think he feels kind of guilty in the fact that she's ended up with him. He hasn't been able to provide, he's not a great farmer and he's had to keep secrets from her. I think it was just a misfiring relationship, and it's been interesting to see how in Season 3, the more he lets her into this world, the more they have something in common. I think she also has a desire for intrigue, to help, to be involved — even if it's something she doesn't believe in, or it's something that she thinks is dangerous. The more they create plots together, the more that there is fire between them and passion comes back.
Q: And speaking of Abe's closest relationships, his bond with his father seems to have weathered to its limit. Do you think they'll ever be able to recover?
A: It's this forever push and pull between them. I think in this season, Abe renounces his father entirely. He's dead to him. He's tired of waiting for his father to be the man he wants him to be. Abe comes to the conclusion that it just isn't going to happen. I think that story line between father and son, politics and ideals, comes full circle this season.
Q: In a behind-the-scenes video, you mention that the more Abe becomes involved with the Culper Ring, the further he moves away from the things he used to care about. What would you say Abe cares about most of all now?
A: Abe was so cause-focused in Season 2, and with succeeding, he was a little over confident which put him into prison. This year, the more enemies penetrate his identity, the more he's really backed into a corner, and he starts to get to this place where he wonders if he should even be doing this at all. He does start to think it might be better to take his son and go — and maybe that's better for him and for his family. This season, he does need to take one position or another. Abe has never been a "pick up and run" kind of character. He's more of a "I'm going to sit down and think about it and find a way out," but with all of these spinning plates, that becomes difficult to see.
Q: At the end of Season 2, Abe kills Eastin to protect the Culper Ring and plots to kill Hewlett. Are there any lines left that Abe would be unwilling to cross?
A: I think when it comes to the safety of his son, that's a line he's unwilling to cross. That's really the one good thing he has left. At this point, he's tarnished every other relationship in his life: his relationship with Anna Strong is definitely strained. He renounces his father so he's got nothing left apart from his son, who looks to Abe as his provider and protector, when in fact Abe can barely protect himself.
Q: Craig Silverstein has said the theme of Season 2 is Shadow-War. What would you say is the overarching theme of Season 3?
A: Consequence. When you choose one thing or the other, one of those things might disappear, and you might never get that again. You might end up in a situation where your life is very much on the line. And this isn't just for Abe — this is for every character. John André is taking bigger risks; he's a spymaster taking big risks for love. Benedict Arnold is taking big risks and betraying his country. We definitely see everyone's decisions really hitting home.
Q: I suppose a farmer would know best that you reap what you sow…
A: Well, Abe was never a very good farmer, so maybe he doesn't know that. [Laughs]
TURN: Washington's Spies airs Mondays 10/9c. Receive show exclusives by signing up for the Insiders Club.
Read More