Q&A
TURN: Washington's Spies Q&A – JJ Feild (Major John André)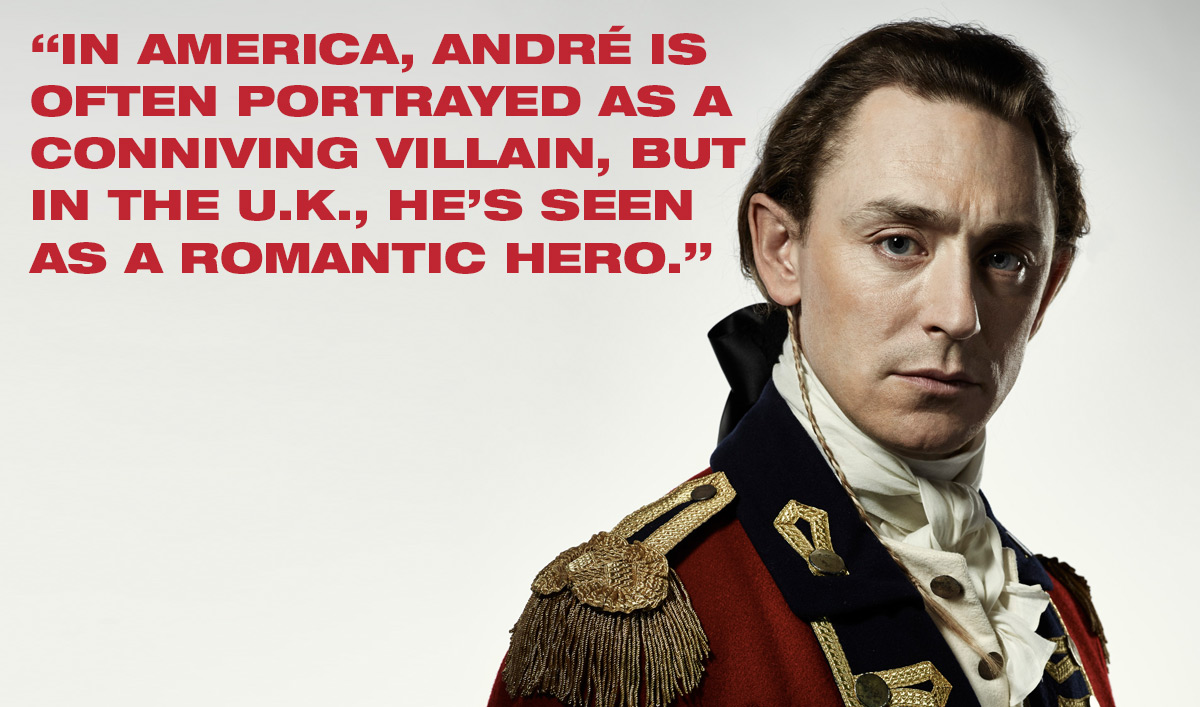 JJ Feild, who plays Major John André on AMC's TURN: Washington's Spies, talks about the love triangle between André, Peggy Shippen and Benedict Arnold and how André's musical talents compare with his own.
Q: Going into Season 2, how much did you know about the dynamic between John André, Peggy Shippen and Benedict Arnold? Did you do any research into their relationships?

A: Luckily there are many many books about the the André-Shippen-Arnold triangle. In America, André is often portrayed as a conniving villain, but in the U.K. he's seen as a romantic hero. Who knows where the truth lies — probably somewhere in the middle. However, luckily, we have an extraordinary team of writers on TURN: Washington's Spies that can mold all sides of the story into a wonderful drama.
Q: Ksenia Solo described André as a "heartthrob and total Casanova." How would you describe him? Has your perception of him changed after exploring his emotional and artistic sides during Season 2?
A: André is a renaissance man. He's a deeply principled man. He's a great man caught on the wrong side of history. It was that contradiction that attracted me to playing him.
Q: How did you go about creating and refining your portrayal of André's charm?

A: I don't think you can perform charm. It comes from the writing, and from how the actors around you react to you. If André comes across as charming, then it's because of Ksenia's wonderful acting making me look good. Thank you, Ksenia!
Q: In Season 2, Episode 2, André moves into Benjamin Franklin's house, which is full of inventions Franklin left behind. Were you able to play with any of the props on set, or did you have to keep your hands to yourself?

A: It's incredible how much Franklin invented. It truly shows his brilliance. The sets are always extraordinary, and I'm constantly fiddling and playing with everything around me. We're very lucky.
Q: In Season 2, Episode 3, André puts on a play and notes that he prefers Shakespeare's comedies over his tragedies. As a stage actor yourself, which do you prefer? Do you have a favorite Shakespearean play?
A: I never have any favorite Shakespeare plays, because it's more about the company and production doing them. I was blown away by Iceland's Theatre Vesturport when they brought Romeo and Juliet to the Young Vic in London, and I was equally blown away by Mark Rylance's As You Like It when I saw it in New York last year.
Q: André's talents as a musician have been seen a couple of times this season. Was that really you playing the violin in Season 2, Episode 2?
A: Absolutely not. I'm flattered you even ask. I practiced like mad, and then played along to a guide track.
Q: What about the flute in Season 2, Episode 7?
A: Oddly, that was me. It was easier to pick up. Basically, I played all the instruments to varying degrees of ear torture, and then some nice beautiful professional makes me sound good by recording a good one.
Read an interview with Daniel Henshall, who plays Caleb Brewster.
Read More