Q&A
TURN: Washington's Spies Q&A – Seth Numrich (Ben Tallmadge)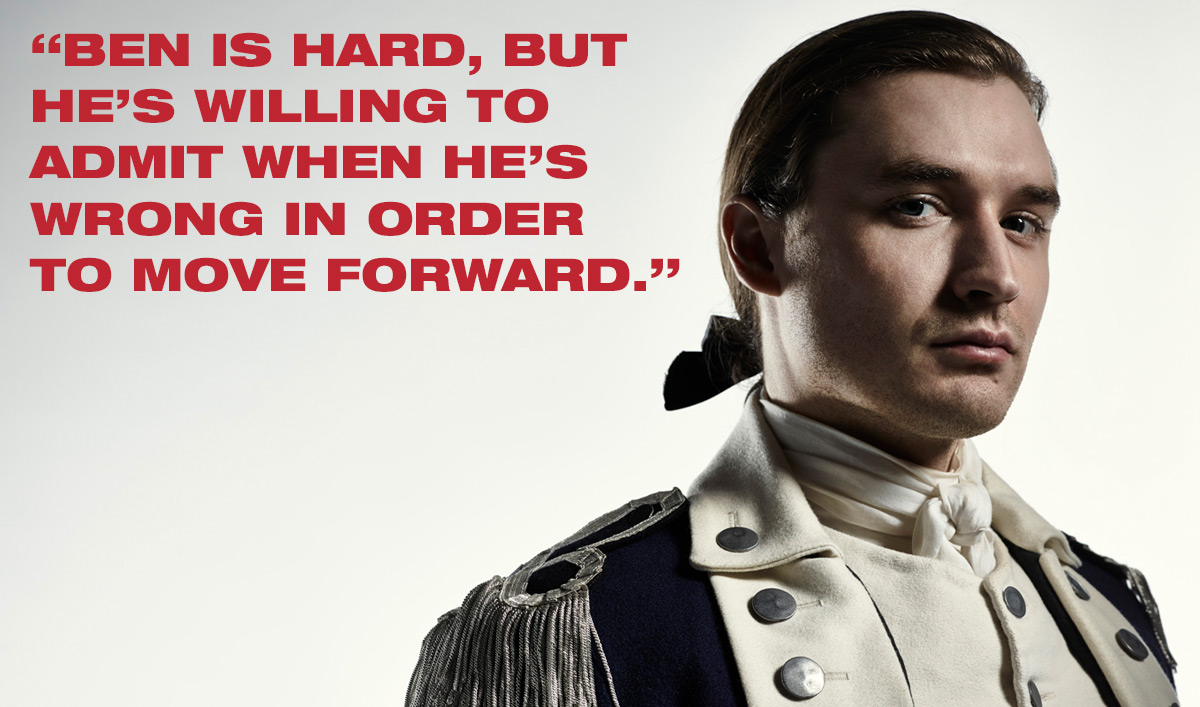 Seth Numrich, who plays Ben Tallmadge on AMC's TURN: Washington's Spies, talks about his character's relationships with Caleb and Sackett and how his theater experience has helped him onscreen.
Q: In the Season 2 premiere, during a brawl, Caleb comes to Ben's rescue and declares, "No one hits my friend but me!" How would you sum up the relationship between Ben and Caleb? In what ways is it similar to your personal friendship with Daniel Henshall?
A: [Laughs] I think there are some similarities in our relationship. I really love Daniel, he's a wonderful guy and actor. I think people get cast in certain roles because there's at least some hint of who they are in the character, and we have fun falling into our roles with each other. Ben and Caleb are really close to each other, and they always have each other's backs in different ways. The way Ben comes to Caleb's rescue is always going to be slightly different than how Caleb comes to Ben's rescue.
Q: Ben is committed to doing all he can to protect George Washington and root out traitors in an attempt to keep the Patriots united. What do you admire most about Ben as a leader?
A: I've always been in admiration of Ben and his commitment. Now, as we see him growing as a character, I think what's really cool is that he's learning things are not always that simple. He's becoming more of a man, and sees the bigger picture. He takes other people's safety into account now. It's the classic coming of age story, how to fight for what you believe in and also take care of the people around you. What I love abut Ben is that he's hard, but he's willing to admit when he's wrong in order to move forward.
Q: Talk about the scene in Episode 203 in which Ben and Caleb get a tour of Nathaniel Sackett's spycraft workshop. Was the set as cool in person as it looks on TV?
A: The set was very cool! The people on our show go through such extraordinary lengths to have such great props. It makes it so much easier for us as actors to be in that kind of environment. It was equally as fun to get into that room and see what was possible as characters on a mission to do the best we can do to gather intelligence.
Q: How did you and Stephen Root approach developing Ben and Sackett's easy-going rapport?
A: Stephen Root is one of my favorite people on the planet. I grew up watching his movies like Office Space, so when I found out he was going to be joining us, I was thrilled. I think that dynamic informed where our characters might be going. The writers are all on set as well, and they get to see the rapport that exists between us as actors. I'd like to think that might inform how they end up writing the characters.
Q: You are a Julliard drama school graduate and have a considerable amount of theater experience. Is there anything you learned from treading the boards that has especially influenced your performance on TURN: Washington's Spies? Have you learned anything from performing for television that you've been able to put to use on stage?
A: That's a great question. My theater experience has definitely come into use. I think most of the actors on the show come from that world, and we all talk about how much it helps. The language is dense and rich in a way that I think we're used to, coming from the theater. There's also a posture and a way you hold yourself that is of a different time and era, and having all that theater training has helped. Something that I've learned a lot from working on camera is the ability to have an intensity without having to do a lot. The camera picks up such small, nuanced elements of a performance, and I've learned how to manage that. Right now I'm doing a play, and we're in a little 110-seat theater, so we have the ability to be very intimate and subtle.
Q: You're currently working on Angus Macfadyen's rendition of Macbeth. What was it like to perform beside some of your TURN: Washington's Spies castmates in a different environment? Did Macfadyen cast you as Macduff for any particular reason?
A: He mentioned it was something he was working on, and I remember having a conversation with him: I had recently seen a production of it, and I mentioned a scene that Macduff was in. He got further into the development process of his film, and he asked me to do the role. We had a lot of fun. I had a great time working with those people in an entirely different context and using some Shakespearean language on film.
Q: Your father is also an actor. How has he influenced your acting career?
A: I started acting when I was a kid, and I was lucky that he was extremely supportive of me, but never pushed me to do anything. It was always my interests. He was always there to answer questions, but he was really kind in wanting me to find my own way. I remember my early auditions, and he was always there to guide me in a patient and loving way. He took my brother and I to see plays all the time, and we read Shakespeare at home. I'm always going to be grateful to be brought up that way.
Read an interview with Ksenia Solo, who plays Peggy Shippen.
Read More