Q&A
TURN: Washington's Spies Q&A – Burn Gorman (Major Hewlett)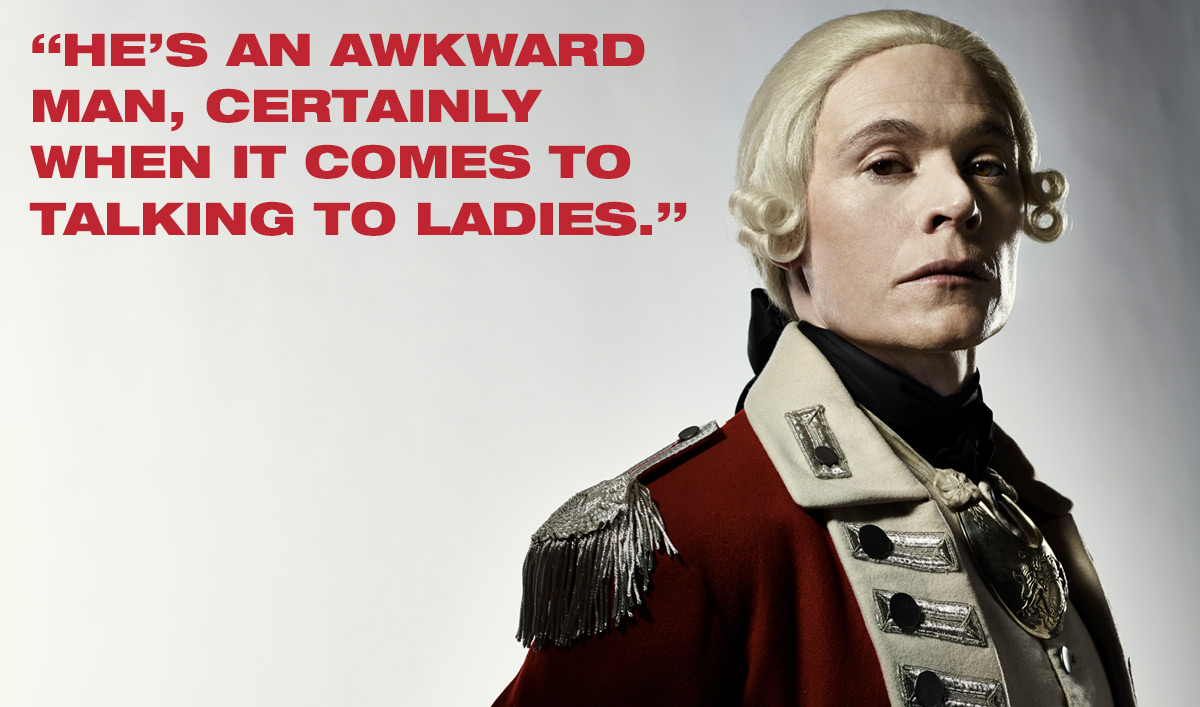 Burn Gorman, who plays Major Edmund Hewlett on AMC's TURN: Washington's Spies, talks about Hewlett and Anna's relationship, his appreciation for George Washington, and what he'd be doing if he wasn't acting.
Q: When we last spoke, you mentioned Major Hewlett's soft interior, and this season we're seeing Anna bring it out in him. How did you go about portraying the gentler side of such a gruff military leader? Did you draw on any inspirations?
A: Well, I think the first thing to say is that going into Season 2, we all know that Hewlett is a man out of place. He's in a war and in a foreign country where he feels like a fish out of water. In the first season, we saw him struggling with that, and hopefully in the second season, what we see is that his guard is down slightly and he's allowing his real personality, the real Hewlett, to come through. He's becoming slightly less hostile. He's actually enjoying being in Setauket, and perhaps allowing his real feelings to come to the fore. I think all of us have had unrequited love sometime in our lives. So, although I'm not basing him on anything personally, I think we can all relate. He's an awkward man – certainly when it comes to talking to ladies and generally showing the soft side of himself.
Q: How did you and Heather Lind approach developing Hewlett and Anna's awkward chemistry?
A: Heather is an absolutely fantastic actress. What she does that's so great is bring so many layers to Anna. In a way, I suppose, we sort of related to each other in the characters. We're pretty much alone in this situation, and we've had friends and family taken away from us. Anna perhaps appreciates someone taking an interest. We really enjoyed the scenes together.
Q: In Episode 204, Hewlett talks about the struggle between "men of reason and men of blood." Hewlett seems to consider himself a man of reason, despite his often-harsh actions. Which do you think applies to him more?
A: Definitely a man of reason. I think he'll do whatever it takes if he wants to run an ordered, tight ship. If he needs to have someone flogged, for example, he'll do it because he wants to do his job well, but I don't see him as a man that gets any results through violence. He'd prefer to reason things out and negotiate. He's also a man of honor. In Season 1, when Setauket was attacked, there were rules of engagement. As long as those are stuck to, I think he's happy.
Q: You're a history buff. Is there anything new or surprising you've discovered as a result of your experiences on TURN: Washington's Spies? What's the most interesting thing you've learned?
A: I loved watching Ian Kahn as Washington, he's such a talented actor. I've done some more research into Washington, the man. He was incredibly complex, and almost a renaissance man in terms of his interests in farming, new technology and food. It was nice to see the real man start coming through. I loved learning that he had failures and struggles.
Q: After two seasons of playing Major Hewlett, have you found any common ground with your character?
A: Well, I like my clothes! [Laughs] My wife's always telling me off about my shoe collection. That's something Hewlett and I share. We like the finer things in life when it comes to sartorial elegance. He's a person who very much puts thought into presenting the right image –- although I'm not too bold about that, I certainly do like my clothes.
Q: What remains the biggest difference between the two of you?
A: I'm not sure that I would keep suffering. I think I would try to get out of Setauket, and would try any way I could to get home. I feel like Hewlett is a man that is so bound to his duty that he's willing to sacrifice his happiness. I'm not as disciplined, but I've got a great amount of respect for this character.
Q: In Episode 204, Hewlett admits he wanted to be an astronomer, not a solider. What do you think you might be doing if you weren't acting?
A: I would be in the hotel trade. I got started there and worked my way up to luxury hotels in London. I always enjoyed the camaraderie. It's like a beehive from the kitchen upwards. That's what I would be doing, but fortunately I've been acting for a while now and I got the chance to play this character – so, hopefully, I won't have to go back to that. [Laughs]
Read an interview with Seth Numrich, who plays Ben Tallmadge.
Read More