Press
Jamie Bell's 5 Minutes With WP; Craig Silverstein Tells Variety About Real Washington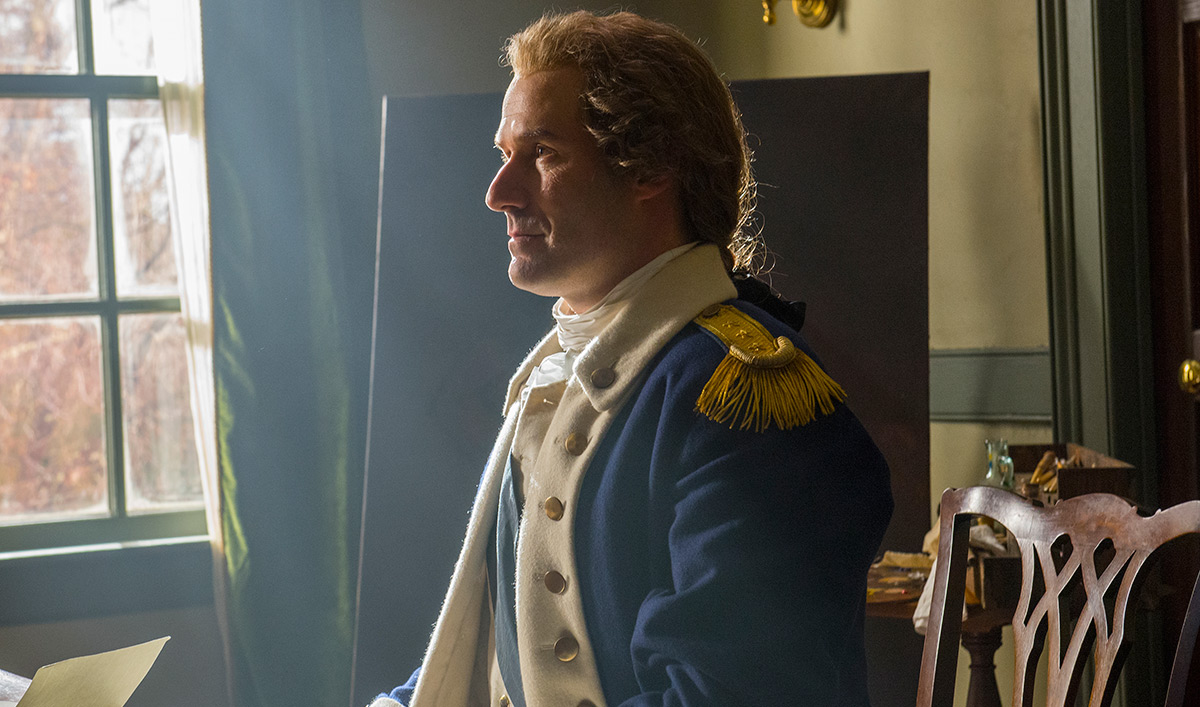 This week, The Washington Post has five minutes with Jamie Bell, while Craig Silverstein talks to Variety about George Washington. Plus, Entertainment Weekly gets Owain Yeoman's take on playing Benedict Arnold. Read on for more:
• The Washington Post spends five minutes with Jamie Bell and discovers he would do "terribly" as a spy because "as soon as I see any authority figure, like law enforcement…I feel like I've done something wrong. And I look guilty. I think I have a guilty face."
• Craig Silverstein tells Variety's "PopPolitics" about depicting George Washington in TURN: Washington's Spies and how "the real Washington, the Washington that we've looked at, it's too good to be true. Are we ready to see the real man beneath the face on the dollar bill?"
• Owain Yeoman, Benedict Arnold's portrayer, says to Entertainment Weekly that "maybe we haven't considered all of the things that made him famous before he was infamous. And if we can celebrate his good side, then seeing his demise is that much more powerful."

• Previewing Season 2, The New York Times says that Season 2 is "lavish and well acted as ever and promising more intricate intrigues."
• The Wall Street Journal adds that TURN: Washington's Spies a "handsome and well acted period piece."
• Ahead of the Season 2 debut, The Philadelphia Inquirer says the show, during Season 1, "never failed to be entertaining and thought-provoking. The new season opens slowly, but promises to provide viewers with more excitement."
• The Toronto Sun interviews Ksenia Solo, who describes her character, Peggy Shippen, as "very opinionated, and not afraid to share those opinions. She was a very forward-thinking woman for her time."
• Benedict Arnold's portrayer, Owain Yeoman, tells Yahoo TV, "I relish the challenge, creatively… because, as you say, the character comes with quite a lot of associative historical baggage, and we're really trying to challenge that."
• Ksenia Solo defends Benedict Arnold to The Canadian Press, observing his situation was "not as cut-and-dry as Benedict just being a traitor and he's terrible and he's evil for what he did."
• Postmedia News speaks with Ksenia Solo, and the Lost Girl star says she wanted to "stretch myself as an actor. Along came TURN and the very complex and intriguing role of Peggy Shippen, and it was exactly what I wanted to do."
• We Are The Mighty talks to Alexander Rose, who explains that Benedict Arnold "enters the show in his prime. He was one of the great war heroes, the best generals they had. We have to see him in that light. He didn't start off as a bad guy."
• Teasing Season 2, Jamie Bell tells TV Insider, "You finally get to see what the Culper spy ring is capable of and a lot of cool, intricate spycraft."
• The Daytona Beach (Fla.) News-Journal believes "history buffs may learn to appreciate the restraint and languid pace" of TURN: Washington's Spies.
• Bustle takes a look at the real Abraham Woodhull, who "you've probably never heard about in your AP history class."
• The Virginia Gazette spotlights the use of the College of William and Mary campus and Colonial Williamsburg in TURN: Washington's Spies.
• Jamie Bell talks to AOL about his motion-capture performance as The Thing/Ben Grimm in Fantastic Four and Andy Serkis' influence on him.
• For recaps and reviews of the Season 2 premiere, check out A.V. Club, Den of Geek, Entertainment Weekly ("Thoughts of a Free Man" and "Hard Boiled") IGN, Los Angeles Times ("Thoughts of a Free Man" and "Hard Boiled"), TV.com and TVOvermind.
To stay up-to-date with all the latest TURN: Washington's Spies news, join the TURN: Washington's Spies Insiders Club.
Read More