Q&A
TURN: Washington's Spies Q&A – Donna Zakowska (Costume Designer)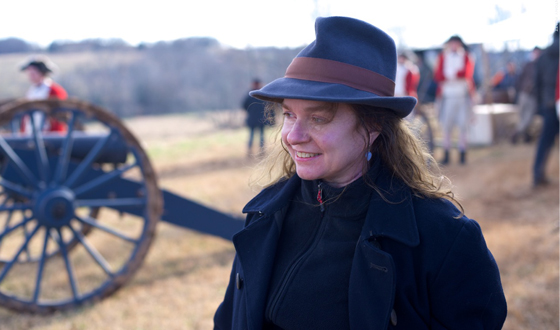 Donna Zakowska, Costume Designer for AMC's TURN: Washington's Spies, talks about designing for Jamie Bell's character and creating her own 18th century attire.
Q: What kind of information do you need to get started with the costume design process?
A: Well, I need the script, that's number one. What story am I trying to tell? Then, ideally, you talk to the showrunner. In this situation, that's Craig Silverstein. He and I talk about the different worlds, the different people in those worlds, what their craft is and what we're trying to say with them. So, it's really that initial discussion with the writer that triggers everything for me.
Q: Where do you draw inspiration from for a production like this one?
A: I look at a lot of period paintings, and I love to look at art itself. I think that's my biggest source. English and French paintings, Joshua Reynolds paintings. And then, of course, I'll look at something like Barry Lyndon, which is really a masterpiece from a film point of view.
Q: Are all of the costumes made from scratch? Do any of them include authentic accents such as buttons?
A: A lot of the clothes are rentals from all over the world, but the principal costumes like Abe's -– all his clothes, I made. Finding buttons from the 18th century is the hardest thing! We have some button makers in New York who made some for us.
Q: Were there any specific characters that you were particularly excited to design for?
A: I liked them all, but I really loved Abe in many ways because he's a very interesting character. He's a farmer, but really turning into a spy — there's a lot of conflict in his character. That was great to work with.
Q: Do you find it more challenging to design for the men or the women of TURN: Washington's Spies?
A: In a lot of ways, I'd probably say the women, because it's very, very hard to find fabrics that you can really translate into this period. Some of the fabrics we used come from England, and some of them are antique fabrics. It's a challenge to find materials for the women. It's about the weight — fabric is just made differently now. It's not made the way it used to be, and it's much lighter.
Q: Let's talk hair. Are those powdered wigs hard to work with? How much do you collaborate with the hair and makeup team?
A: Powdered wigs were typical of the period, especially for upper-class people. You wouldn't find someone of lower class wearing them, but the wigs were always made of very different things depending on the amount of money you could spend. The hair could be made up of anything from horse hair to yak hair to human hair. The wigs are hard to work with. I try to collaborate with hair and makeup as much as I can, because I do think it's about the whole picture.
Q: The actors are frequently bloody and grimy. Does that require making multiple versions of the same costume to reflect various states of disrepair?
A: The thing is, there's never enough time to second guess it, but we do have multiples. We get the script and then it's usually a frenzy: Can we make that multiple? Do we have enough time? Someone like Abe has multiples because we're in the mud and the weather can get crazy.
Q: You previously worked on John Adams. Did that experience prepare you for TURN: Washington's Spies at all? How do the costumes on that series compare?
A: It definitely helped me prepare because, in a way, I was already up to speed. Now I can specifically fine-tune for characters and the specifics of what TURN is about, because I'm way past just understanding what the clothes are. The costumes of TURN are more of an American 18th Century.
Q: If you were living during this time period, what might your own attire look like if you could design it?
A: I'd definitely prefer the boy's clothing without question, because I love the cuts of the jackets and the boots. I think it would be more of a hip, 18th century boy than a woman wearing corsets. I'm not up for that!
Read an interview with Caroline Hanania, Production Designer for AMC's TURN: Washington's Spies >>
Save
Read More