Q&A
TURN: Washington's Spies Q&A – Thomas Golubic (Music Supervisor)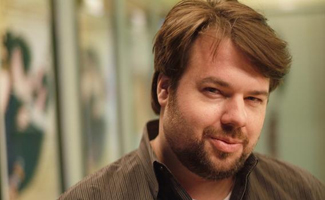 Thomas Golubic, Music Supervisor on AMC's TURN: Washington's Spies, talks about researching music from the 18th century and setting the tone for the series.
Q: How does the music help set the tone for TURN: Washington's Spies?
A: We had an interesting opportunity with this series because we're telling a historical story, one for which there are no recordings from this time period, so licensing was not an option. We decided to hire a composer, Marco Beltrami, who could carry the audience into the time period but still allow for a contemporary approach. Additionally, he's from Setauket, so that was an amazing, wonderful coincidence.
Q: How do you ensure the music you select is appropriate for this type of show? Did you have to do any research on the time period beforehand?
A: Absolutely. Every project has its own challenges, but when you're doing a period piece, it gets into a deeper level of complexity. With TURN: Washington's Spies, a lot of our legwork was researching music of the time period, finding religious songs or sheet music or songs that slaves would sing. There were no records of these things. We worked on establishing a personality for the series as a whole that felt really unique to the story. It was also very important for us to be historically accurate — we didn't want to have songs that were written in the 1800s when this takes place in 1776. We wanted the music to be truly representational.
Q: What are some of the most interesting things you learned in the course of your research?
A: One of the greatest things about this project was being able to visit the stories from the Revolutionary War and what was going on during this time period. What kinds of experiences were they having? What kind of music did they listen to? We learned a lot about soldiers and different classes. For example, if you were a horseman, you were probably coming from the upper class, which meant you'd be exposed to a different kind of music than a lot of the infantrymen were. There was a lot of interesting information about each of the different cultures we were exploring.
Q: What is your overall process like? How much do scripts and dailies help inform your work? Do you ever get or solicit input from show runners, episode writers, episode directors, or even cast members?
A: A little bit of all of that. The nice thing about this job as a whole is that everyone is an expert in music. A lot of great ideas come from the writers, the directors, the cast, all over. Our job is to pull together all of these ideas, research them to make sure they're appropriate, and then filter them through what we think are the strongest options for telling the story. We then present those options to the showrunners, they select what's best, and then we move forward with having songs created.
Q: Were there any scenes for which you had immediate ideas for music? Were there any that were particularly challenging to select a song for?
A: They were all challenging because this wasn't music that was in everyone's wheelhouse. It's not like I have a favorite song from the 1700s. [Laughs] In many ways, every scene was its own interesting challenge.
Q: Is it any more challenging to supervise music for a new series as opposed to an established show?
A: Absolutely. The hardest part is always the first season. You have to find the composer, which is an important decision; it's like casting your lead. Likewise, you're dealing with the main title theme, which is a complicated effort. It's labor-intensive, and it's a great worry when you have a first season.
Q: You are also the Music Supervisor for AMC's The Walking Dead and previously supervised the music for AMC's Breaking Bad and for AMC's The Killing. How does working on TURN: Washington's Spies compare with working on those series?
A: When it came to finding the right composer for The Killing, for example, Frans Bak had a very different personality and sound, but was right for that show. With TURN: Washington's Spies, we had a completely different process. The series are all so different, which is what I love about my job. You get the chance to completely change what you're doing each time you get a new project and work to figure out how music helps to tell the story.
Buy music featured on TURN: Washington's Spies, including the main title theme, "Hush" >>
Read a fan interview with Craig Silverstein, Executive Producer of AMC's TURN: Washington's Spies >>
Save
Read More