Press
AMC Orders Second Season of Revolutionary War Drama TURN: Washington's Spies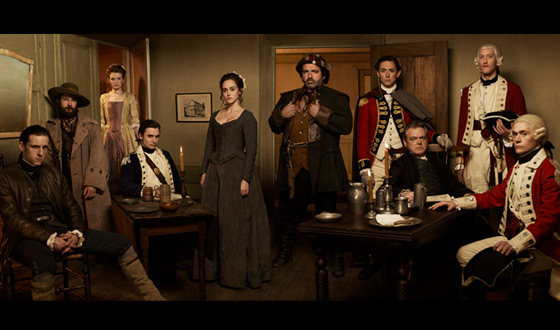 AMC today announced that it has ordered a second season of its Revolutionary War drama, TURN: Washington's Spies, which attracted a passionate core audience averaging two million viewers a week over its initial 10-episode run. TURN: Washington's Spies will return to AMC with 10 new episodes next spring. The network is also pairing encores of the entire first season of TURN: Washington's Spies with Hell on Wheels on Saturday nights this summer to give new viewers a chance to discover and connect with the show.
"Craig Silverstein, Barry Josephson, and a talented cast and crew delivered a truly distinctive and engaging premiere season. We look forward to continuing this revolutionary journey into season two," said Charlie Collier, AMC president. "AMC and its creative partners have a track record of nurturing programs we collectively believe in, patiently growing viewership and engagement over time. With TURN: Washington's Spies, once again, we dive in with our partners to build upon this very promising first season."
Season ratings averages, live+3, across initial 10 episodes:
Total audience, 2 million viewers
Adults 25-54, 772,000 viewers
Adults 18-49, 709,000 viewers
On a very competitive night, the TURN: Washington's Spies finale delivered 2.2 million viewers, live+3, including 792,000 adults 25-54 and 706,000 adults 18-49.
A character-driven drama set during the Revolutionary War, TURN: Washington's Spies takes us behind the battlefront to a shadow war fought by everyday heroes who vowed to keep their heroics a secret. Based on Alexander Rose's book Washington's Spies, TURN: Washington's Spies centers on Abe Woodhull, a farmer living in British-occupied Long Island who bands together with a disparate group of childhood friends to form the Culper Ring. Together they risked their lives and honor and turned against family and king for a fight they believed in passionately, ultimately helping George Washington turn the tide of the Revolutionary War in favor of the rebels. Their daring efforts also revolutionized the art of espionage, giving birth to modern spycraft as we know it today, along with all of the moral complexity that entails.
TURN: Washington's Spies, from AMC Studios, is executive produced by Craig Silverstein (Nikita), who also serves as showrunner, and Barry Josephson (Bones, Enchanted) from Josephson Entertainment. The series stars Jamie Bell as Abraham Woodhull, Seth Numrich as Ben Tallmadge, Daniel Henshall as Caleb Brewster, Heather Lind as Anna Strong, Kevin R. McNally as Judge Richard Woodhull, Meegan Warner as Mary Woodhull, Burn Gorman as Major Hewlett, Angus MacFadyen as Robert Rogers, JJ Feild as Major John Andre, and Samuel Roukin as Captain Simcoe. TURN: Washington's Spies is distributed internationally by Entertainment One Television (eOne), through an exclusive multi-year output agreement.
To stay up-to-date on all the latest news about TURN, sign up for the TURN: Washington's Spies Dispatch email newsletter.
Read More