Press
Seth Numrich Applauded by Joplin Globe; TURN's Suburban NYC Connection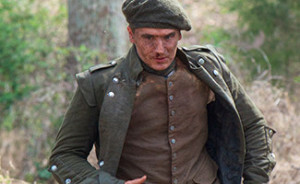 This week, Seth Numrich is applauded by The Joplin Globe. Plus, The Journal News examines TURN: Washington's Spies' Westchester County, N.Y. connection. Read on for more:
• The Joplin (Mo.) Globe compliments TURN: Washington's Spies' "good acting" and calls Seth Numrich's Benjamin Tallmadge "the show's real center."
• The Journal News reports on TURN: Washington's Spies' connection with White Plains, N.Y., in Westchester County.
• Wilmington, N.C.'s StarNews interviews a local actor and professor who plays Simcoe's right hand man: "I do all of his dirty work. It's a lot of fun."
• For recaps and reviews of Season 1, Episode 7, "Mercy Moment Murder Measure," check out Den of Geek, Entertainment Weekly, Guardian Liberty Voice, IGN, News For Shoppers, What the Flick and Zap2it.
To stay up-to-date on all the latest news about TURN: Washington's Spies, sign up for the TURN: Washington's Spies Dispatch email newsletter.
Read More