Press
Kevin McNally Speaks With Morton Report; TURN Heading to Netflix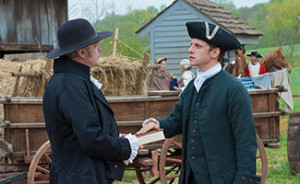 This week, Kevin McNally speaks with The Morton Report, while TURN: Washington's Spies is heading to Netflix. Plus, Den of Geek writes about the real Captain Simcoe. Read on for more:
• The Morton Report interviews Kevin McNally, who talks about the divided loyalties of the Revolutionary War and how, as Season 1 progresses, "I feel that even Richard's commitment to the crown starts to waver slightly."
• Home Media Magazine reports that TURN: Washington's Spies will be available on Netflix sometime after Season 1 concludes.
• Den of Geek delves into the real story of Captain Simcoe, who was actually "a respected, forward-looking British officer."
• For recaps and reviews of Season 1, Episode 6, "Mr. Culpeper," check out Entertainment Weekly, Guardian Liberty Voice, IGN, What the Flick?! and Zap2it.
To stay up-to-date on all the latest news about TURN: Washington's Spies, sign up for the TURN: Washington's Spies Dispatch email newsletter.
Read More