Press
Jamie Bell Talks Abraham to Vulture; Ian Kahn Tells EW About the Real George Washington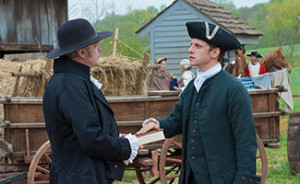 This week, Jamie Bell talks about Abraham to Vulture, while Ian Kahn tells Entertainment Weekly about the real George Washington. Plus, Heather Lind speaks with Zap2it about what she's learned from playing Anna. Read on for more:
• Speaking with Vulture, Jamie Bell says Abraham is not an anti-hero, but there is "also something to be said of the good person who's forced to do bad things, who's forced to lie to his wife, who's forced to betray his father."
• Entertainment Weekly previews George Washington's appearance on TURN by interviewing Ian Kahn, the actor who plays him. Kahn says, "There's a warmth to Washington that people don't really know, and I know that we're very much trying to find."
• Zap2it talks to Heather Lind, who says she's learned from playing Anna that "any amount of power you have, you can change your situation. You can risk something to do something."
• Alexander Rose tells Fox News he was surprised to learn "how much George Washington enjoyed spying the daylights out of the British and how good he was at being a spymaster."
• British Weekly also interviews Alexander Rose, who says the time he spent on TURN's set was "quite fascinating, especially for a writer more accustomed to working alone in an archive."
• Speaking with World Screen, Seth Numrich explains how TURN's script made him "excited about that opportunity to recontextualize what I knew about the history and about this particular conflict."
• Den of Geek delves into the history of the Culper Ring.
• Broadway World has a sneak peek of Episode 5, "Epiphany."
• For recaps and reviews of Season 1, Episode 4, "Eternity How Long," check out Blogcritics, Den of Geek, Entertainment Weekly, Guardian Liberty Voice, IGN, News For Shoppers, TV Equals, TV Overmind and Zap2it.
To stay up-to-date on all the latest news about TURN, sign up for the TURN newsletter.
Read More