Press
Jamie Bell Rates His Spy Skills to USA Today; Ian Kahn Discusses Playing Gen. Washington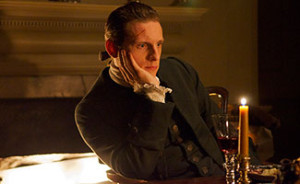 This week, Jamie Bell rates his spying skills for USA Today, while Ian Kahn discusses playing General Washington. Plus, Burn Gorman talks to The Morton Report. Read on for more:
• Jamie Bell tells USA Today that he wouldn't make a good spy: "I can keep a secret. My deduction skills are OK, and I'm quite good at reading people. But I think I'm a bit obvious. I just look guilty. … I'd give myself away."
• Zap2it, previewing Ian Kahn's first appearance on TURN: Washington's Spies as George Washington, interviews Kahn, who says Washington was "very conscious about how he was seen by the rest of the country. He had deep insecurities that actually lived within him."
• The Morton Report profiles Burn Gorman (Major Hewlett), who says, "What I wanted to do with Hewlett was present someone who is prideful and believes in the superiority of his social position amongst the colonists, but is trying to do the right thing."
• Ian Kahn, a baseball enthusiast, explains the Revolutionary War to FOX's fantasy baseball podcast in baseball terms, likening the American victory to getting to the eighth or ninth inning and then sneaking out a 3-2 win.
• The U.K.'s Liverpool Echo interviews Samuel Roukin about playing Lt. John Simcoe and how he enjoys "the challenge of playing someone bad, as those characters are the most complex and interesting kind."
• SundanceTV credits TURN: Washington's Spies with re-sparking an interest in the Revolutionary War and suggests some movies that history buffs will love.
• Long Island's Village Times Herald credits TURN: Washington's Spies for introducing "people throughout the country to Setauket, to Long Island as more than a suburb of New York City, to a new side of George Washington and to the Culper Spy Ring."
• Broadway World has a sneak peek of Episode 6, "Mr. Culpeper."
• For recaps and reviews of Season 1, Episode 5, "Epiphany," check out Blogcritics, Celeb Dirty Laundry, Entertainment Weekly, Guardian Liberty Voice, IGN and Zap2it.
To stay up-to-date on all the latest news about TURN: Washington's Spies, sign up for the TURN: Washington's Spies Dispatch email newsletter.
Read More