Characters
A Journal Entry by Caleb Brewster About Life on the Front Line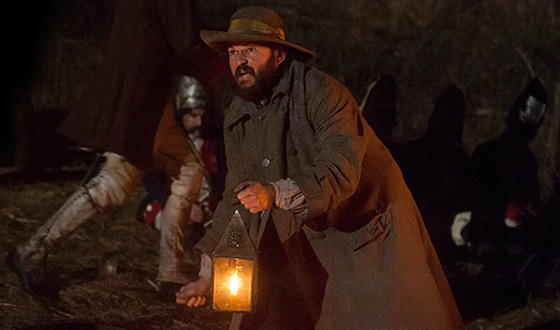 December 22, 1776 — With each day that passes, it is another day that we are on the run from the bloodybacks. Days that are lean and cold. After our losses at York Island, it seems as though we are in a constant state of retreat, on the run from an army that may be greater than ours in size but cannot match our will.
General Washington continues to rally the men despite our setbacks. Even now as Christmastime approaches, the good General is doing all he can to keep our spirits high as the snow begins to fall, rations run short, and the end of our bounties draw near. Our resolve is being tested at every turn. There are many among us who turn their thoughts to home to muster up comfort and strength. I try to keep my thoughts present and on my work with Ben. Yet I am no different than the others — home is on my mind more often than I care to admit.
The most difficult thing about this fighting is being so close to Long Island and so far away from it all at the same time. We crisscross back and forth through New York and New Jersey and Connecticut, and when I ferry messages from the coves near Setauket, I feel so close to home that I can almost smell the shellfish being hauled in on the docks. My visits are always brief for fear of drawing unwanted attention to the clandestine messages I transport. Yet what consoles me is the promise of one day being able to truly come home again.
Abe and Anna are often in my thoughts, along with my Uncle Lucas and the rest of my family who are doing their best to live their lives with Redcoats quartered in their homes, crawling in the tavern, and in every other nook of our town. Defending that town, our home, is what keeps the fire burning in my belly. Protecting those close to me is what is important.
The odds are against us, but I know there is a chance that we can put up a good fight. There are men much braver than I ever hope to be who are willing to sacrifice themselves for their families to have freedom. I will do my part alongside Ben, who is determined to use intelligence to bring down the Royal Army. With a little luck, perhaps there will be an impressive lobster boil before long. That is a celebration I would be more than happy to attend.
Read a recruitment letter from John Andre to a potential double agent >>
Read More