Press
Washington Post Previews TURN; Jamie Bell Chats With LA Times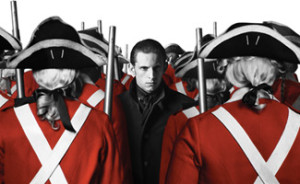 This week, The Washington Post previews TURN, while Jamie Bell chats with the Los Angeles Times about his character on the show. Plus, President George H.W. Bush hosts a screening of TURN. Read on for more:
• The Washington Post's preview of TURN notes that the drama "asks its audience to regard the revolution as a far more complicated period than most of us learned about as children."
• Jamie Bell tells the Los Angeles Times that, at the start of the series, his character Abe is "somewhat emotionally arrested, he's shut down, he's withdrawn and debased."
• According to The Hollywood Reporter, President George H.W. Bush hosted a private screening of TURN. His review? "A brilliant show, a fantastic cast, there's one problem however, and that's waiting till the next episode."
• HitFix interviews Jamie Bell about the Culper Ring spies, who all "took on an incredibly dangerous enterprise and the risk was death."
• The Chicago Sun-Times previews TURN, describing it as "a promising show about a relatively unexplored chapter in U.S. military history."
• Variety shares an exclusive video that introduces the characters loyal to the British crown, including Kevin McNally's Richard Woodhull (father of Jamie Bell's Abe Woodhull).
• Entertainment Weekly's review of TURN calls Jamie Bell "a strong, appealing center" as Abe Woodhull.
• The Detroit News commends TURN for becoming "more tense with each episode, at least through the first three, and that's a very good sign."
• Nashville Scene believes that TURN has "the potential to become another breakout show for AMC."
• The Baltimore Sun examines the popularity of spy shows on TV, citing TURN — which has "secrets, lies, moral ambiguity, warring ideologies, betrayals, blood and death."
• McClatchy-Tribune News Service talks to Jamie Bell about growing up a child star.
• The Week names TURN its show of the week and calls it a "suspenseful" new series. (No link)
• C-Ville Weekly interviews a local company that did the casting for TURN.
• IGN spotlights TURN: Origins, a new digital comic book with the backstory for AMC's new series.
• Wall St. Cheat Sheet thinks AMC "may already have a guaranteed hit" with TURN.
To stay up-to-date on all the latest news about TURN, sign up for the TURN Dispatch email newsletter.
Read More