Q&A
TURN Q&A – Daniel Henshall (Caleb Brewster)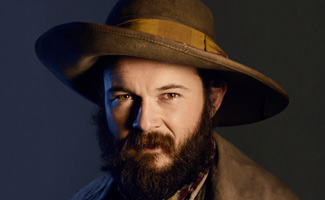 Daniel Henshall, who plays Caleb Brewster on AMC's TURN: Washington's Spies, talks about his hand-to-hand combat scenes and pretending to hate one of his castmates.
Q: You've been featured in a variety of soap operas in your home country of Australia. How does working on TURN: Washington's Spies compare? Did you need to change anything about your acting style for this particular series?
A: It's very different — a much different style of television. The soap operas back home were very fast-paced and daily. The production values are different. The degree of production and the design and detail were a lot smaller. TURN is huge in all of its proportions — set building, costumes. They were very different experiences.
Q: You portrayed real-life serial killer John Bunting in your first film, Snowtown, and you're now portraying another real-life person in Caleb Brewster. Do you find playing an actual person more challenging than playing a fictional character?
A: Not really. The great thing about playing a real person is that you get a set of circumstances that you can base your ideas and character upon — you don't have to make it up yourself. With Caleb, history tells us that he was a guy with a lot of bravado, confidence and zest, a guy that wasn't afraid to take on the British. We took that into building our version of the character. I find it very helpful when you can base a performance on a real person. I don't know if I'm a funny guy or not, but Caleb definitely has a sense of humor compared to the other characters. He has a joy for life, and he's an adrenaline junkie. He sees the world differently. It's not a game to him, but he does enjoy a challenge and tries to make the best of every situation.
Q: What research did you do to learn more about the real Caleb Brewster?
A: I read a lot about him on the Internet, and I watched John Adams to get an idea of the period. I did a lot of reading about the Revolution, basic facts like who's who and what's what, and of course I read Washington's Spies. I even made a visit to the Library of Congress. I tried not to hold onto the facts too strongly because sometimes that gets in the way of what your character is meant to be: our version of Caleb.
Q: Caleb is in several scenes featuring fighting and hand-to-hand combat. Do you have any previous fight training?
A: There's a stunt guy on set to help, to correct you and to make sure you don't hurt yourself. I enjoy physical confrontation in my work, so I don't mind a bit of push and shove. It suits me and Caleb at the same time.
Q: Caleb's dislike of Simcoe is quite apparent. Are you and Samuel Roukin friendly on set? Did that make it hard to get into character for your scenes together?
A: Sam's a great guy. I love him dearly and he's a beautiful human being. He's a talented fellow. It makes it even easier when you do get along with someone because you have that trust and that bond. Sam and I get along really well. It's a funny dichotomy when you like someone so much, yet on screen, you dislike each other so much. He's Caleb's nemesis, I suppose, so that's fun.
Q: You and Meegan Warner had both appeared on the TV series Rescue Special Ops in Australia. Had you ever actually met before working on TURN: Washington's Spies?

A: I hadn't met the beautiful Meegan before this. I didn't know who she was, and I don't think she knew who I was. We don't see each other on set very often, but we understand each other and have a commonality between us.
Q: How much did you have to practice to perfect Caleb's accent?
A: The accent changed a bit. I originally played it differently in the Pilot, and then we had to re-shoot some scenes that were being put to story and I was asked to change the accent. The production team thought it might be better if I had a mixture of British, Irish and American accents. I practiced it throughout, so hopefully it's decent.
Read an interview with Angus MacFadyen, who plays Robert Rogers >>
Save
Read More