Press
NY Times Calls TURN "Beautifully Filmed"; Jamie Bell Talks Spies With TV Guide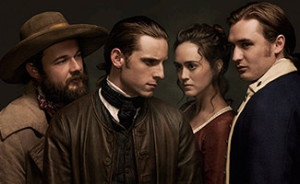 This week, The New York Times calls TURN "beautifully filmed," while Jamie Bell talks spies with TV Guide. Plus, TURN's opening credits and theme song win plaudits from critics. Read on for more:
• The New York Times applauds TURN as "ambitious and beautifully filmed."
• TV Guide learns from Jamie Bell that TURN, with its focus on the Culper spy ring, is "really shedding light on a story that almost nobody knows about, and it's so crucial to the identity of America today."
• Spin spotlights TURN's theme song and opening credits, commenting that "Mad Men isn't the only AMC drama with cool opening credits by hip artists." Zap2it calls TURN's theme song "snazzy."
• The Washington Post interviews Heather Lind about why women made ideal spies during the Revolutionary War.
• CarterMatt points out several reasons why AMC should be pleased with the ratings for TURN's series premiere. Deadline adds that TURN had stiff competition, airing against HBO's Game of Thrones season opener and the Academy of Country Music Awards show on CBS.
• The Daily Beast praises TURN as "a visually arresting historical epic."
• Jamie Bell tells Parade how intelligence is "crucial in all walks of life. It's crucial to the media, it's crucial to politics, it's crucial to wars on foreign soil. It's everything. Espionage is everything."
• Jamie Bell talks to Reuters about Abraham Woodhull's everyman qualities: "He's not a hero. He's not a spy. He's a farmer, a failed farmer, and he's a family man. He wants the war to disappear. He doesn't want to be one of these people who wants to step up."
• USA Today writes that several TV shows take place in the past, including TURN, and notes, "As far as TV is concerned, there's nothing wrong with living in the past."
• TheWrap has a behind-the-scenes video featuring Jamie Bell and Craig Silverstein talking about the Culper Ring's spycraft "that, while primitive, provided the roots of modern-day espionage."
• The Wire thinks Abraham Woodhull could be Jamie Bell's adult breakout role, calling it "a wholly mature role, one that in the show's first three episodes allows Bell to show a mix of swagger and the inherent fear that comes with a spy job."
• Newsday talks to Craig Silverstein about TURN's Long Island setting.
• The New York Daily News describes TURN as "a strong period drama with an intriguing and nuanced cast."
• According to the St. Louis Post-Dispatch, TURN "looks like a series that will be absorbing to follow for its characters, not just its action."
• Redeye commends TURN, which "offers a fresh spin on the War of Independence."
• The Lincoln (Neb.) Journal Star says TURN is "a heart-racer at times. That's the sign of a thriller done well."
• Craig Silverstein, who hails from Michigan, tells the Detroit Free Press that the Culper Ring members were "morally conflicted because to be a spy in this time was not an exciting profession."
• Canada's QMI Agency calls TURN an "engaging drama" and talks to Craig Silverstein about the true story behind the Revolutionary War.
• U.S. News and World Report takes a look at how closely TURN hews to the historical record and why the Revolutionary War deserves more attention.
• Voice of America talks to Seth Numrich and Heather Lind about risk-taking TV shows like TURN that "often trump formulaic Hollywood films."
• The Minneapolis StarTribune speaks with the Twin Cities' Seth Numrich, who, on TURN, has "the most swashbuckling role, one that often finds him with blood on his clothes and fire in his eyes."
• The St. Paul (Minn.) Pioneer Press profiles Seth Numrich, a native of the city, who says of the Revolutionary War, "it was interesting to see how torn the country was at the time. In a lot of ways, it was more like a divorce than it was like a war."
• Heather Lind tells her hometown paper, Schenectady, New York's The Daily Gazette, about the hardships faced by the Culper Ring members: "All the upheaval people went through was hard. It's not the kind of thing you learn about in school."
• Zap2it, interviewing Samuel Roukin, says that his character, a British officer named John Graves Simcoe, "almost immediately becomes an antagonist" for Abraham Woodhull and Anna Strong.
• Radio.com talks to TURN's music supervisor, Thomas Golubić, about the show's original theme song, "Hush."
• Richmond.com interviews TURN's costumers, who are excited by the chance to "do really interesting 18th century pieces."
• Virginia.org highlights TURN's debut and encourages readers to participate in "TURN: The Trail," a series of Colonial and Revolutionary War-era attractions and TURN filming locations.
• Craig Silverstein, interviewed by Studio System News, says TURN is "not a museum piece, it's chaotic — a world you think you know, but really don't."
• GoldDerby thinks that TURN's Revolutionary War setting "immediately gives it a leg up for the Creative Arts Emmys."
• Prompted by TURN's premiere, School Library Journal encourages readers to check out Alexander Rose's Washington's Spies and other espionage-related books.
• The Seattle Times review of Nymphomaniac: Volume II compliments Jamie Bell for giving "an icily crisp performance that keeps you continually off-kilter."
• For recaps and reviews of the series premiere, check out Entertainment Weekly, TVLine, TV Overmind and Zap2it.
To stay up-to-date on all the latest news about TURN, sign up for the TURN Dispatch email newsletter.
Read More