Press
Jamie Bell Talks TURN With Collider; Blogcritics Touts TURN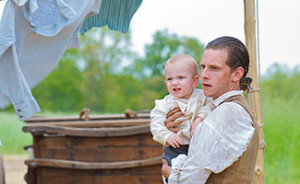 This week, Collider chats with Jamie Bell about TURN, while Blogcritics is hooked on TURN. Plus, Heather Lind talks to her hometown paper about Anna's role in the Revolutionary War. Read on for more:
• Collider interviews Jamie Bell, who says TV has surpassed movies "in terms of the way people invest in these shows and invest in these characters, and give up so much of their time to follow these people's stories."
• "Tapping into an obscure piece of early American History, TURN is full of possibilities," Blogcritics says of AMC's Revolutionary War-era drama.
• The Times Union of Albany, N.Y. profiles Heather Lind, who grew up in the area and says, of the Revolutionary War, "There wasn't a way to be neutral. You really had to take a side. War was happening in your living room."
• The Sydney Morning Herald calls TURN a "ripper of a story."
• Capitol File speaks with Jamie Bell about the Irish lilt he uses for Abraham, how he "wanted him to feel like an underdog, someone with passion, and someone, you know, who had to fight back, and Irish just seemed to stick."
• Jamie Bell tells Examiner.com that Abraham was just "a blue-collar kid, who suddenly had this incredible calling and incredible responsibility put in his shoulders."
• TURN's music supervisor, Thomas Golubić, talks to Radio.com about asking Sarah Blasko, an Australian singer, to provide one of the songs in "Of Cabbages and Kings."
• Playbill reports that Seth Numrich will return to the London stage in Fathers and Sons this summer.
• Broadway World has a sneak peek of Episode 4, "Eternity How Long."
• For recaps and reviews of Season 1, Episode 3, "Of Cabbages and Kings," check out A.V. Club, Den of Geek, Entertainment Weekly, TV Equals, TV Overmind, We Got This Covered and Zap2it.
To stay up-to-date on all the latest news about Turn, sign up for the Turn newsletter.
Read More