Press
Canada.com, Moviepilot Praise TURN; Jamie Bell Calls Abraham "Highly Paranoid"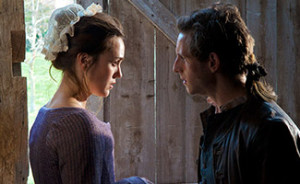 This week, TURN receives kudos from Canada.com and Moviepilot, while Jamie Bell tells IGN that Abraham, his character, is "highly paranoid." Plus, Heather Lind discusses Anna's strength with Zap2it. Read on for more:
• Canada.com calls TURN "compelling precisely because it's out of the ordinary."
• After watching the series premiere, Moviepilot thinks TURN is set to become AMC's "next big success."
• Connecticut Magazine is a TURN fan: "They always say the truth is more compelling than fiction. In the case of AMC's Turn, a healthy dose of both is making for some great TV."
• The Seattle Times thinks TURN's "cinematography and design elements are first-rate."
• Jamie Bell tells IGN that's all that's truly known about Abraham Woodhull is that he was "a highly paranoid individual who was afraid that he would get caught, and he didn't want his name to be known."
• Jamie Bell says the Revolutionary War featured "families turning on themselves. Fathers and sons, as it is in our show, husband and wife," according to Hypable.
• Zap2it learns from Heather Lind that the writers have taken some dramatic license with Anna Strong, "but I like that the license they have taken is in the direction of making her powerful and driven and kind of a fueling force behind the [Culper] ring."
• Broadway World features a sneak peek of Episode 3, "Of Cabbages and Kings."
• For recaps and reviews of Season 1, Episode 2, "Who By Fire," check out Den of Geek, Entertainment Weekly, IGN, TV Equals, TV Overmind, We Got This Covered and Zap2it.
To stay up-to-date on all the latest news about TURN, sign up for the TURN newsletter.
Read More