Press
Jamie Bell, Seth Numrich Talk TURN; Alexander Rose on George Washington as Spymaster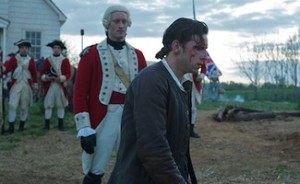 This week, Jamie Bell and Seth Numrich discuss their TURN characters in a new AMC video, while Alexander Rose talks about George Washington as a master spymaster. Plus, several publications are anticipating TURN's Apr. 6 debut. Read on for more:
• Jamie Bell and Seth Numrich talk about their respective characters, Abe and Ben, in a new AMC sneak peek that's featured at TheWrap.
• CableFAX learns from Alexander Rose that George Washington "enjoyed spying the bloody, daylights out of the British. He wasn't just one dollar bill George."
• Cinema Blend showcases a TURN preview and thinks the series "looks great." Monsters and Critics extols TURN for digging "a bit deeper into the story and character history, with excellence in the crafts like costume, makeup and editing."
• Screen Crush spotlights AMC's TURN, which lets viewers "take a minute to meet Daniel Henshall's pivotal courier character Caleb."
• Metro's spring TV preview highlights TURN's series premiere, which airs Apr. 6 debut.
To stay up-to-date on all the latest news about TURN, sign up for the TURN newsletter.
Read More